As I mentioned in an earlier post, I'm a part of a special group of new bloggers who have a passion for quilting! Today marks the 2nd week of our Blog Hop hosted by:
Cheryl @Meadow Mist Designs
Yvonne @Quilting Jetgirl
Stephanie @Late Night Quilter
Terri Ann @Childlike Fascination
All of the New Quilt Bloggers have been divided into "Hives" and my group is called the "New Bees" led by Cheryl.  Below are my fellow hive members on the block this week.  Stop by their blogs and you also get the chance to win some awesome sewing prizes! (Check out the hosts blogs above for more information.)
*Edited to include all weeks of the Blog Hop
Week 1 – Monday June 15th
Ashley @ www.craftyashleyb.com
Gayle @ pedalsewlightly.blogspot.com
Sarah @ http://123quilt.blogspot.com/
Hayley @ Www.moobird.blogspot.com.au
Week 2  – Monday June 22nd
Cristy @ www.iloveyousew.com
Patty @ www.walnutstreetquilts.com
Sarah @ www.goer.org/sarah
Eileen @ eileeninstitches.blogspot.com/
Week 3 – Monday July 13th
Abby @ https://hashtagquilt.wordpress.com/
Shelley @ http://thecarpentersdaughterwhoquilts.com/
Mary @ http://quiltingisinmyblood.com
Week 4 – Monday July 22nd
Kim @ lelandavestudios.com
Cassandra @ http://thenotsodramaticlife.com
Kathryn @ Ourplacequilts.wordpress.com
Colleen @ https://colleenscustomquilting.com/
Deb @ newcreativestate.wordpress.com
Megan @ www.sewstitchingcutequilts.com
>>>
A little about me….I used to work in Finance and Accounting so I love numbers and Excel.  I'm a complete geek when it comes to understanding my sewing costs, margins and of course, profit!  This information helps me tremendously with my shop, craft shows and pricing custom orders for clients. I have plans for a few templates (you know I will share) to help you understand your costs.  Is there anything you would like to see or understand when it comes to pricing your sewing projects?
Fun Fact –  I was named after Cristy Lane, the country singer.  My parents are Chinese-Vietnamese immigrants to the United States.  A sweet woman who helped my family with the assimilation process, thought the song "One Day at a Time" spoke to their journey.  My parents wanted to give me a "Western" name to honor their first American baby, and thus, I received Cristy (without the "H.")
Below is the first quilt I made for my first-born with my husband's old T-Shirts.  Can you tell it has the most minimal quilting I could do?!?  It's just about all "stitch-in-the-ditch."  As you can see, we're an Irish loving family and it was fun to pull this all together. This quilt by no means is elaborate, but it was for my son…so I can't help but love it and be reminded of where I started…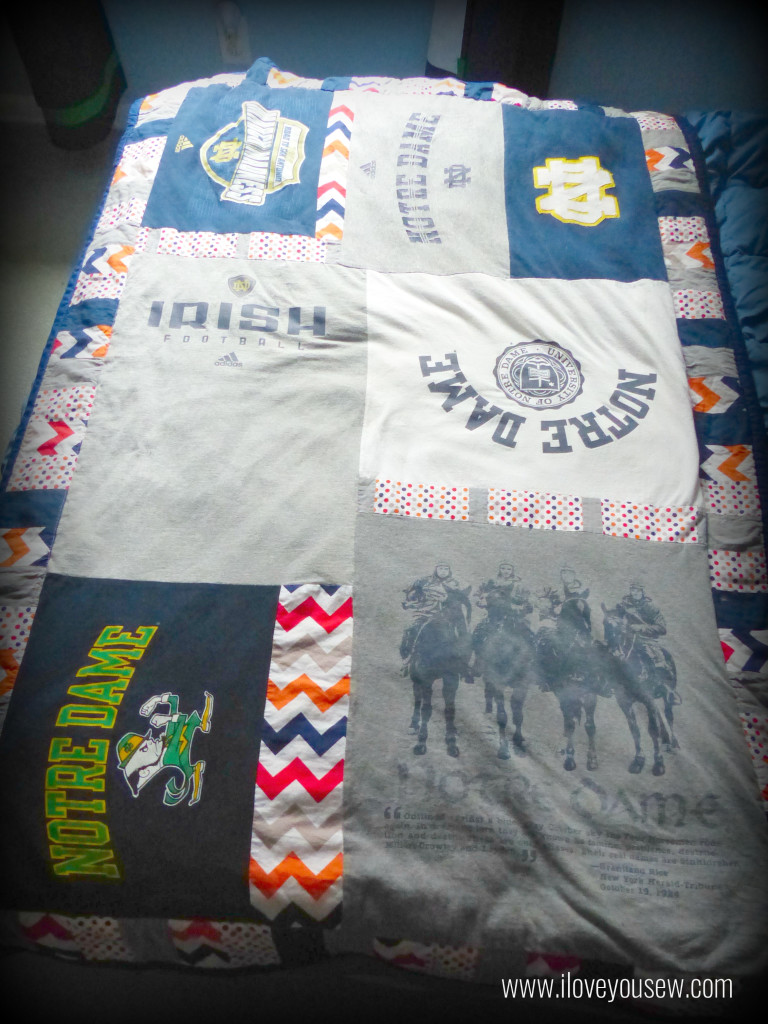 Admittedly, I love more of my recent work as I've improved some skills and increased my fabric stash ;) Quilted Sunset has the rich deep orange-red-mustard tones I just adore. The Quilted Hoops have been my newest obsession and I can't get enough of their compact cuteness. Spectrum of Gingham is a rainbow of love and helped my dear friend raise money to fight Cancer.

With all of this quilting and sewing, I've found the best advice it to go slow and steady.  It's so easy to take short-cuts…thinking you don't need pins or you can just sew at the fastest speed allowed.  But it will pay-off when you don't have to rip out stitches when your fabrics don't align or your stitches become noticeably uneven…TRUST ME…
I've been sewing heavily for about 5 years, have had my Etsy shop for about 2 years and have participated in about half a dozen craft shows, but am juuust starting with blogging. Without formal teaching (beside junior high Home Ec) I've learned a lot of my sewing techniques through other bloggers and wanted to give back to the community through my own experience and spin.
So far, I've learned to use my WordPress app as my on-the-go tool to help me capture ideas, make edits and upload pictures.  Since I'm a stay-at-home mom, my family always takes precedence.  I don't always have time to sit in front of my laptop between life and sewing items from my shop.  The app allows me to work on posts whenever I do have a few minutes…any free time I have is precious!
I hope you enjoyed learning a little more about me :)  Don't forget to visit my fellow 2015 New Quilt Bloggers to get to know them as well!
Happy Stitching,
Cristy