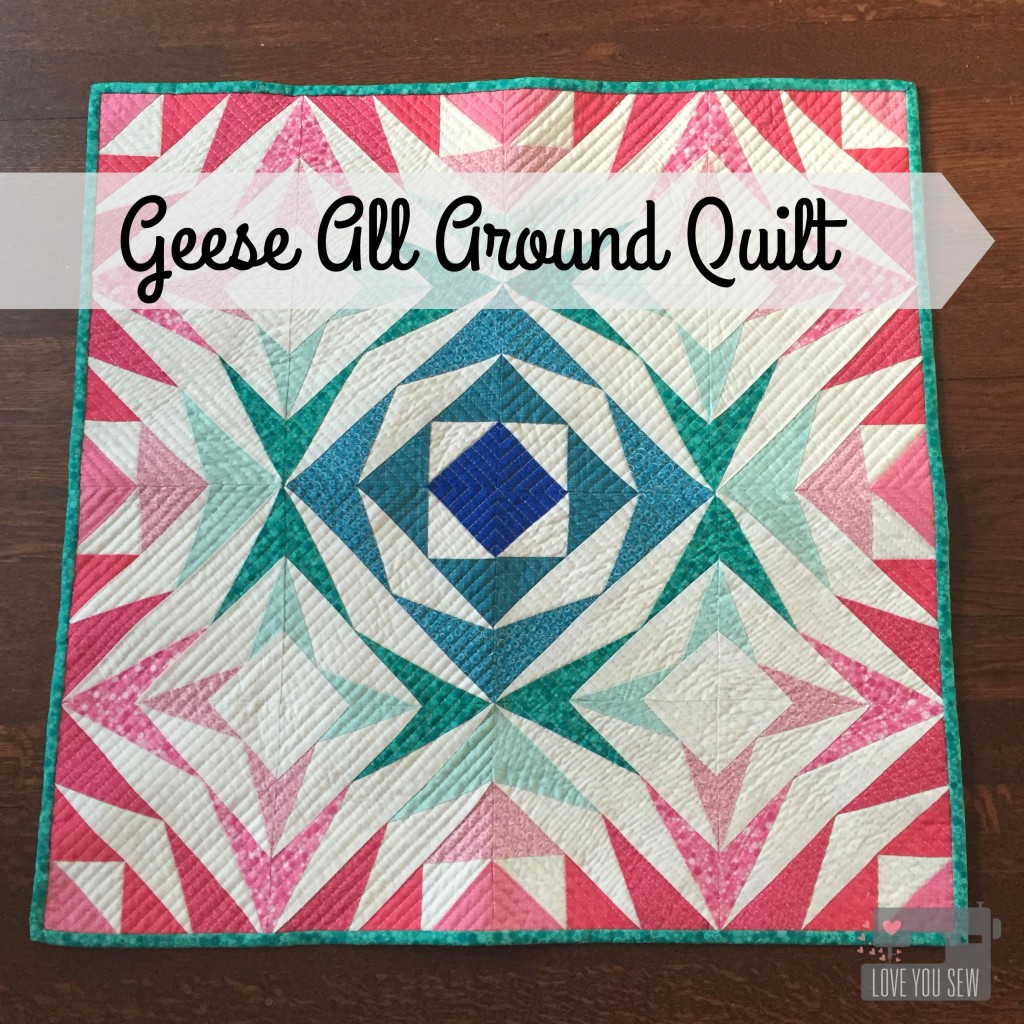 I've been on a kaleidoscope kick lately (check out my last one here)…so when I saw this Geese All Around quilt pattern on Quilter's Cache, I knew it was going to be my next project!
Many of my recent finishes have had rainbow color palettes, so I decided to soften things up and use some blues and pinks this time around.  These Basically Patrick designs from Patrick Lose Studios for RJR Fabrics were just the perfect fit.  There is a mix of Linen, Millefiori, Hexies, and Meandering Loop prints.
This pattern is paper-pieced and calls for a finished 12″ block.  Don't make my mistake and think each square was a block.  It's just 1/4….so instead of initially designing a 48″ x 48″ baby quilt, I ended up with a 24″ x 24″ mini (I sketched and colored my quilt before printing out the template.)  I know I could've just added extra blocks to get the right size, but this quilt was all in the design and color for me.  Fortunately, there was no intended recipient!
As the blocks are sewn together, there is quite a bit of bulk.  Be sure to grade the seams as you go so you don't end up with huge lumps as you quilt.
I echoed quilted this piece with 90 degree angles on the bias with my good friend, Aurifil 2021.  The stitch setting is 3.0 to get these nice straight lines.
On the back, I used Suds in Seltzer with Aurifil 2600.  Isn't the texture amazing?  I just love running my fingers over the quilting. The binding is Hexies in Blue Green with it machine attached to the front and hand-stitched to the back.
This was a happy selfish sew and I'm glad I made the time for it. What was the last thing you sewed for just yourself?
Cheers to Selfish Sews!
Cristy