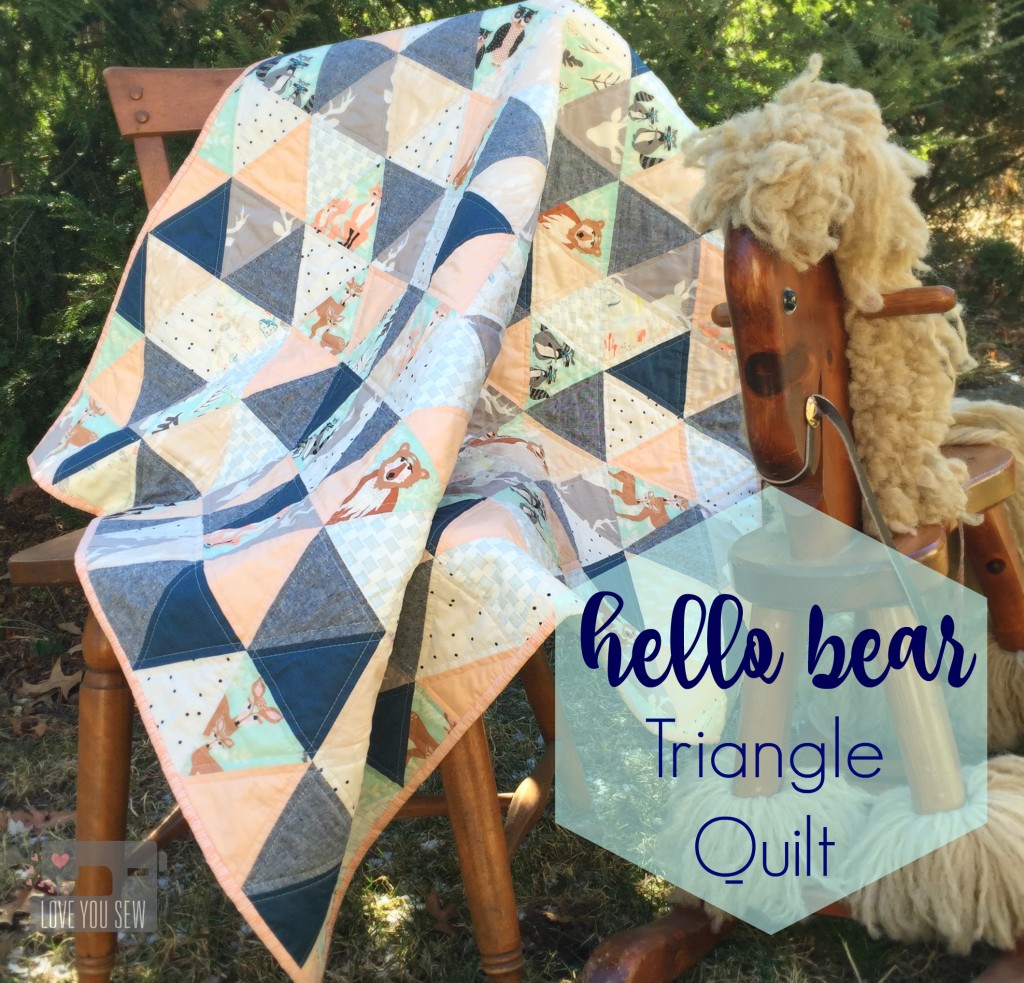 One of my dearest friends is expecting and I knew I wanted to make something very special for her.  The Hello Bear collection by Bonnie Christine for Art Gallery Fabrics came to mind immediately…especially, since I just made the Dwelling Quilt with it.  It's whimsical and playful with such a soothing palette…and best of all, it's gender neutral!  My girlfriend wants to be surprised with the baby's sex, so I chose colors that could go either way.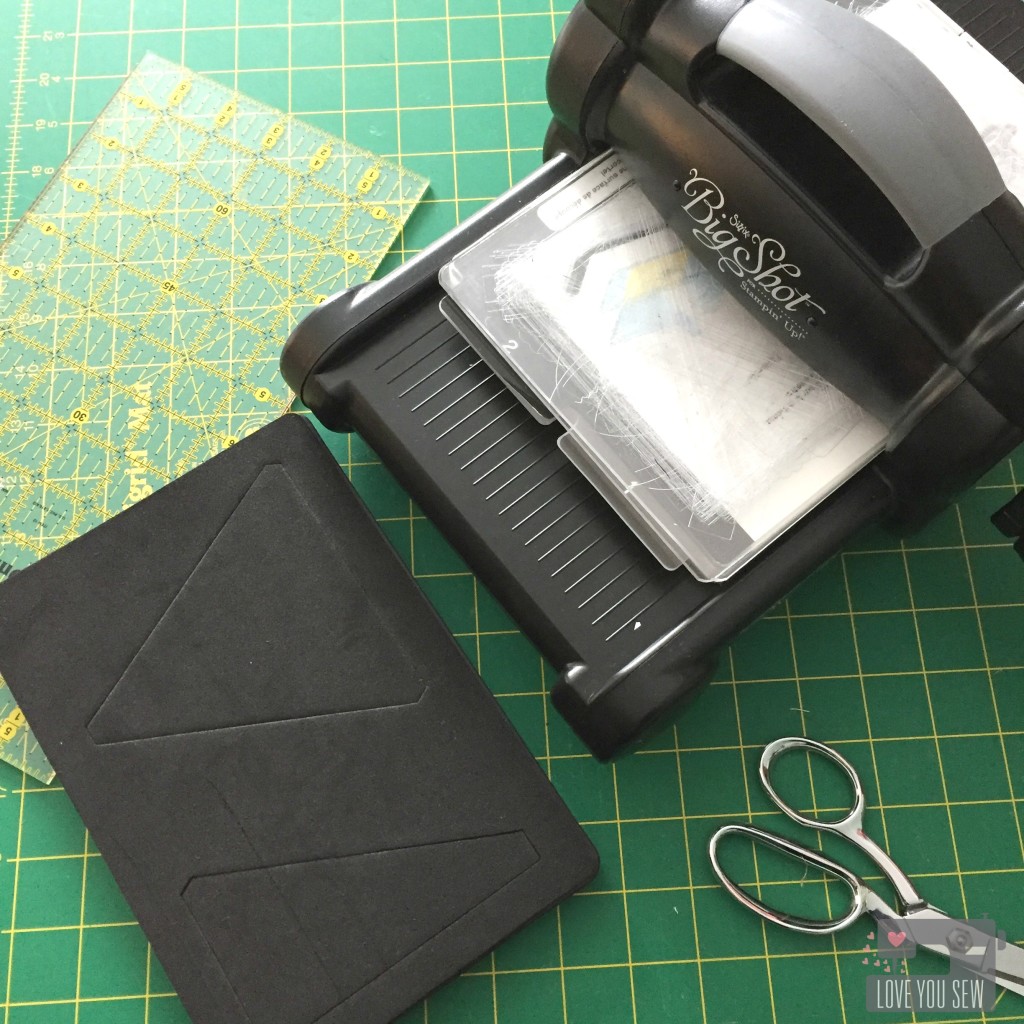 On Black Friday, I picked up several Sizzix Quilting dies, including this 4.5″ Isosceles triangle one.  I made one other triangle quilt awhile back and definitely cut off all the tips as I pieced the top together. There is such a striking look with all the triangles and I knew getting a die to help me cut my fabric would help me keep the point intact!
I have a paper-crafter friend who bought a new Big Shot for herself awhile back.  She then sold me this one for less than half the price….score!  I initially just wanted to use it for paper but quickly found out about the fabric dies.  These are a bit pricey, but I'm hoping to add to the collection as I scout out good sales.  Let me know if you ever see one ;)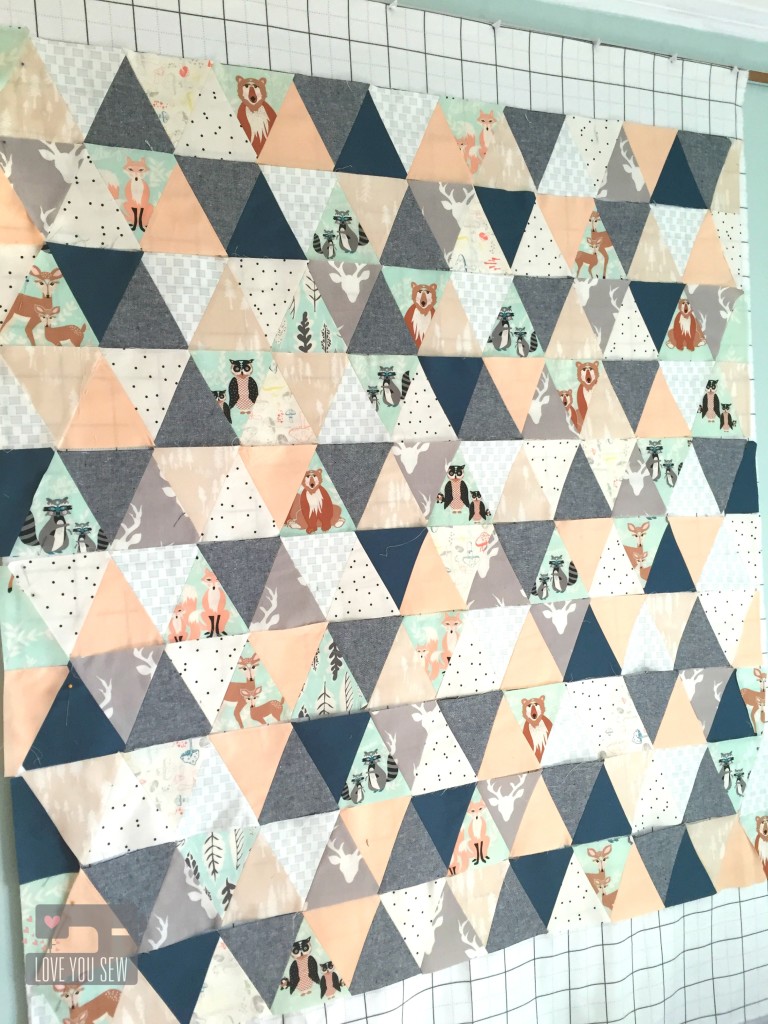 Since there is a finite width to the Big Shot, some pre-cutting is needed to fit the fabric on the dies.  But since I could cut up to 4 layers of fabric in one turn, this was still the faster way to go.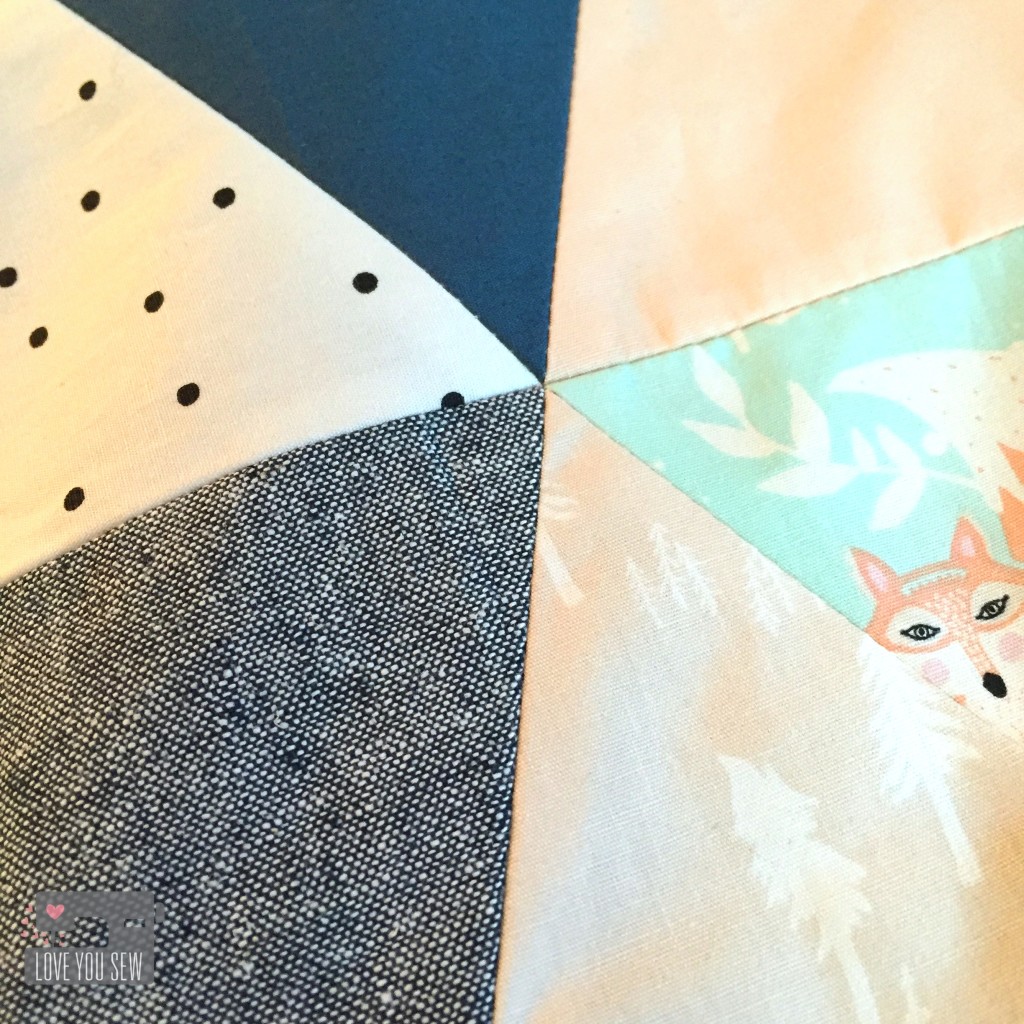 The die gives you the perfect notches to make piecing SO much easier and more accurate.  I'm pretty proud of these beautiful points (above!)  And did you know, you don't have to trim after piecing?  That's the winning feature for me because I despise trimming.  That is probably my least favorite thing to do…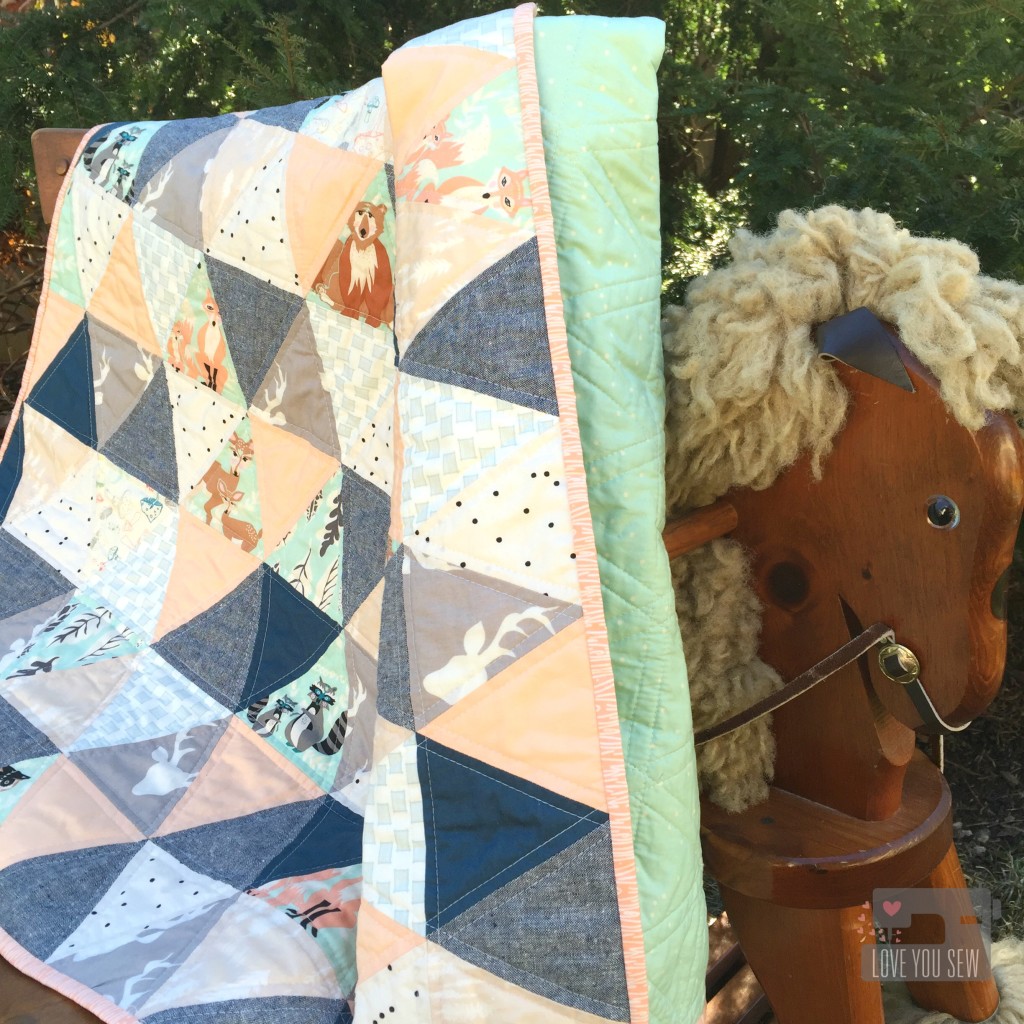 To add more texture and variety to the Hello Bear fabrics, I used Robert Kaufman Essex Linen in Indigo.  You can also see some solids from Art Gallery's Pure Elements and I added a splash of Bound from April Rhodes.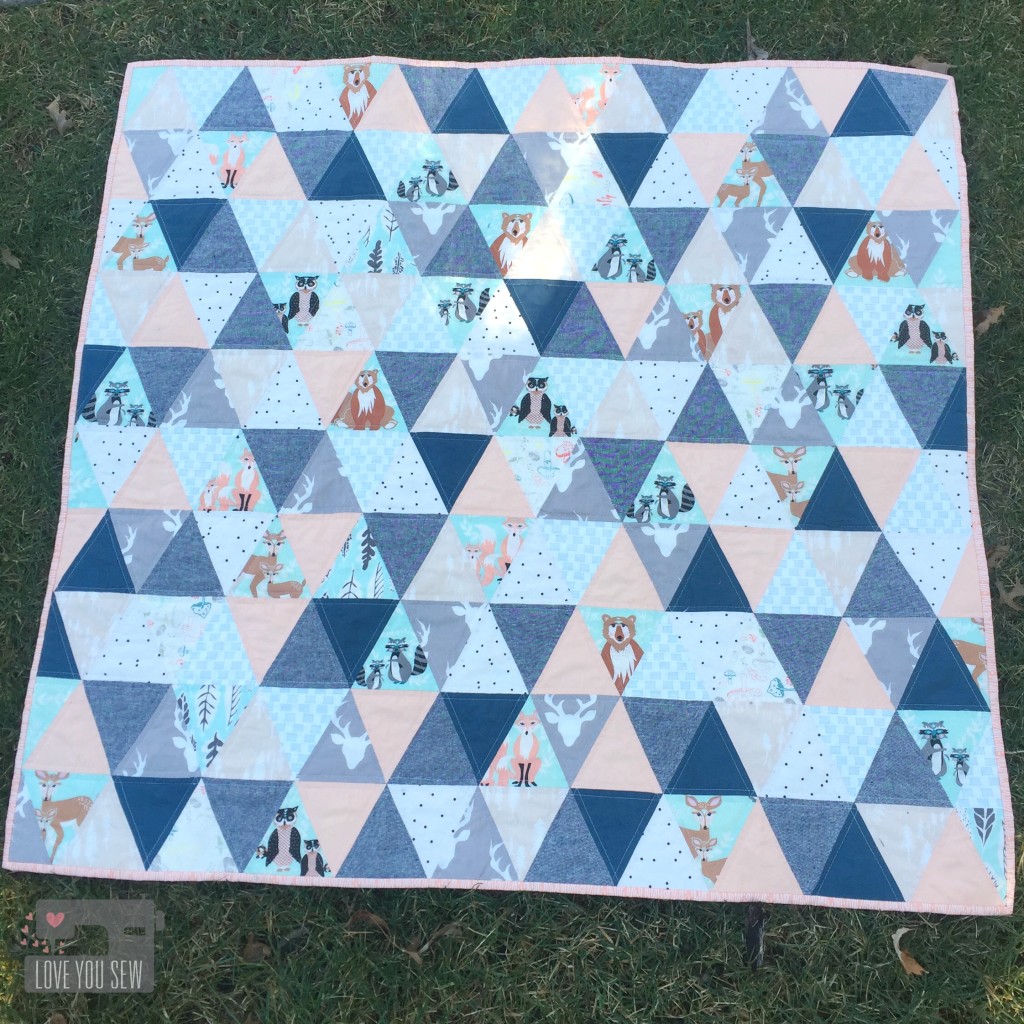 The finished baby quilt is 40″ x 40″.  I quilted along the triangle edges to not distract from all the fun forest creatures you can see here.  This was such a fun quilt to make as I tried out my new Sizzix "toy"….but it was more special because this is going to such a dear friend.  <3  I can't wait to see her baby wrapped up in this quilt!!!
Happy Stitching,
Cristy