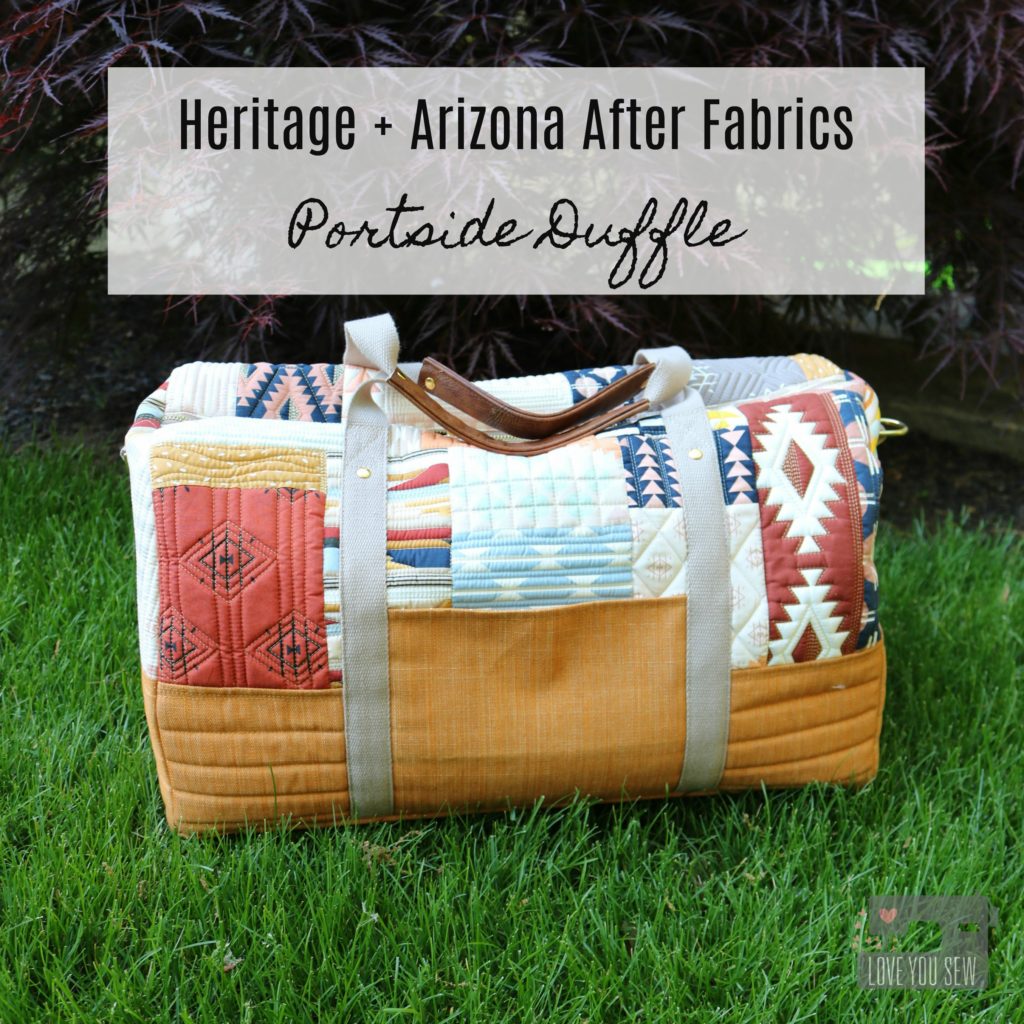 April Rhodes has done it again. She has just dropped not one, but TWO new fabric collections with Art Gallery Fabrics. Arizona After is a gorgeous extension of April's inaugural Arizona line with some new prints and some recolored with soft dusty pink and blues along with some deep rust and mustard. The color combos she puts together are always so striking. Heritage fabrics consists of garment focused substrates…including the new RAYON. With April's clothing patterns, she has always been a designer who knows scale for the quilters and the garment sewist alike. It's the perfect collection for the me-made makers!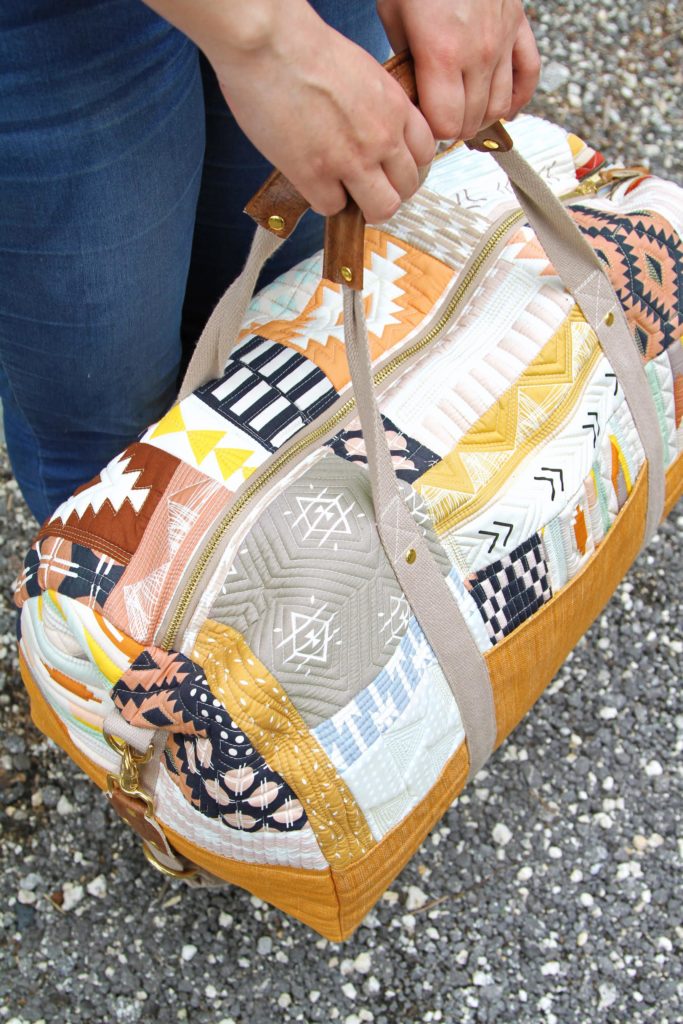 Beyond the fabrics, April's inspiration for the collections is just so touching. The way she talks about her family and memories of her father and grandmother is just pure love. Truly awesome. I love how a lot of the designs were just a part of April's everyday life and over time, have been permanently imprinted in her head. To bring these images to life brings so much light to her eyes and it's been amazing to witness it all. These fabrics are just gorgeous and I'm happy she's shared them with all of us….because whoa, right?!?
When I was asked to make a bag for April's Spring Quilt Market Booth, I (of course) agreed. She has become a dear friend and I will always help her, as she has helped me in so many ways. April asked me to make a larger duffle and suggested a quilt-as-you-go method for easy patchwork because with Market…comes some tight deadlines. I got to immediate work, but quickly realized I had to Turn. It. Up.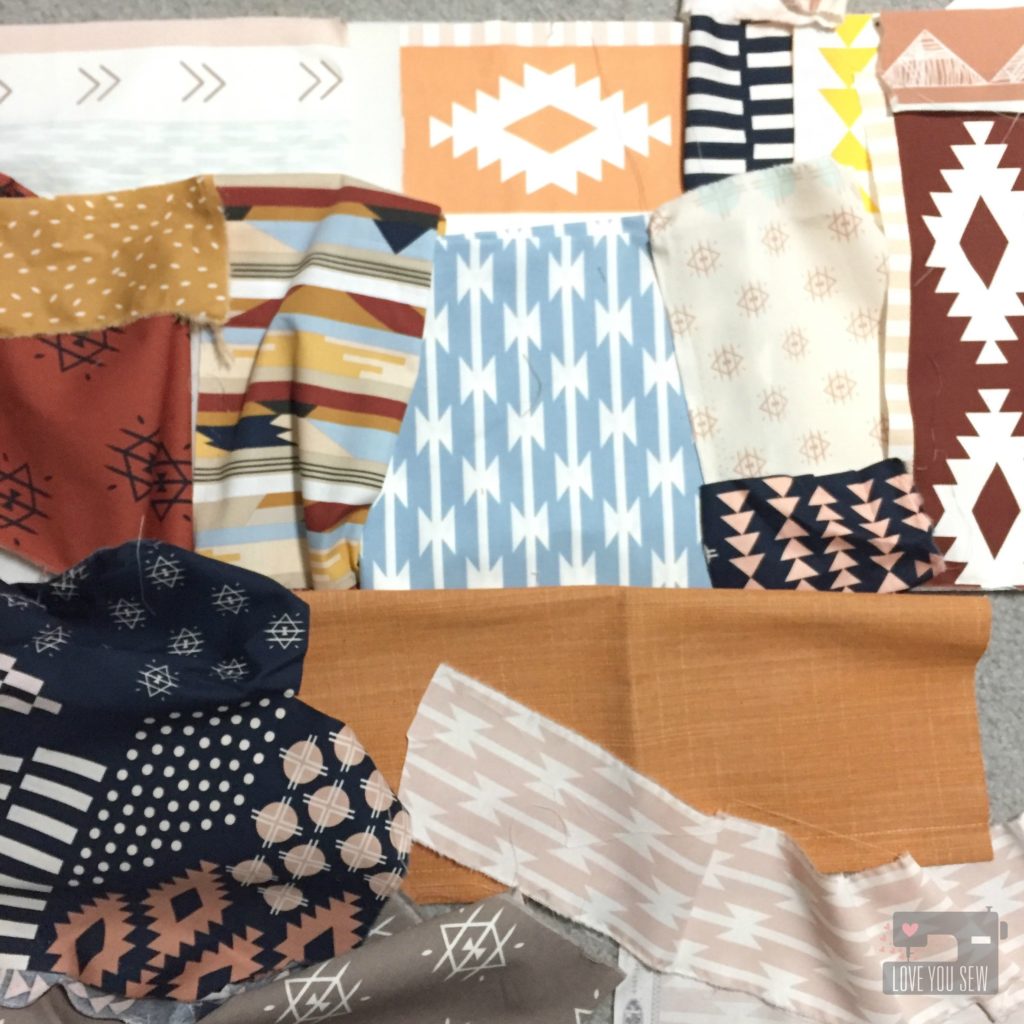 All 14 quilt cottons in the Arizona After collection was used to make the Portside Duffle Bag by Grainline Studios. It's the perfect bag to showcase these fabrics with all that surface area. I loved playing with all the color combos while mixing and even deconstructing, some of the prints.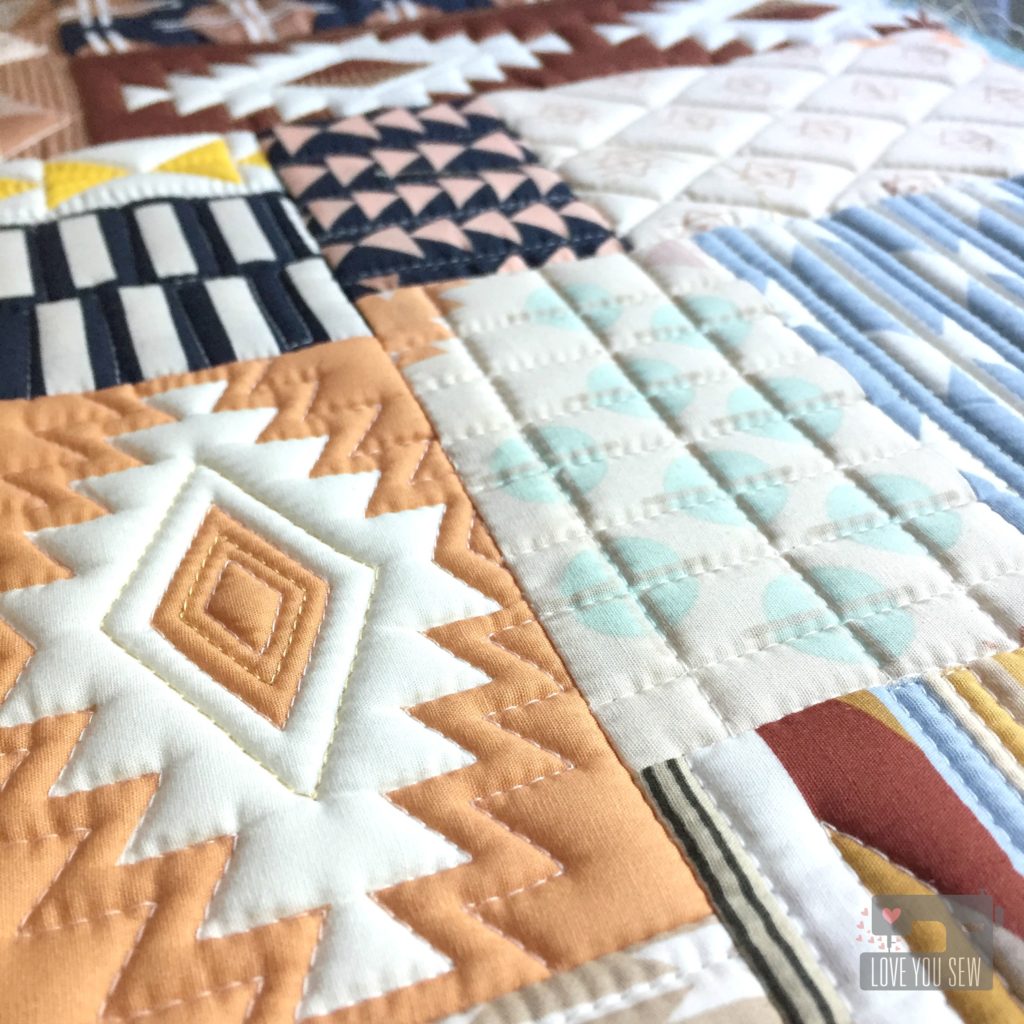 Once I started to quilt with my walking-foot on the Soft and Stable, that texture just got me. I knew I had to add more and more quilting…and change up the designs with each print. Then it dawned on me….ooooh, metallic thread would be A-mazing with this palette. The gold really brings out the colors and I'm so happy with how it turned out. TIP: Cut a larger piece of soft and stable than the pattern requires. Quilt and then cut to size. Don't forget to baste those edges!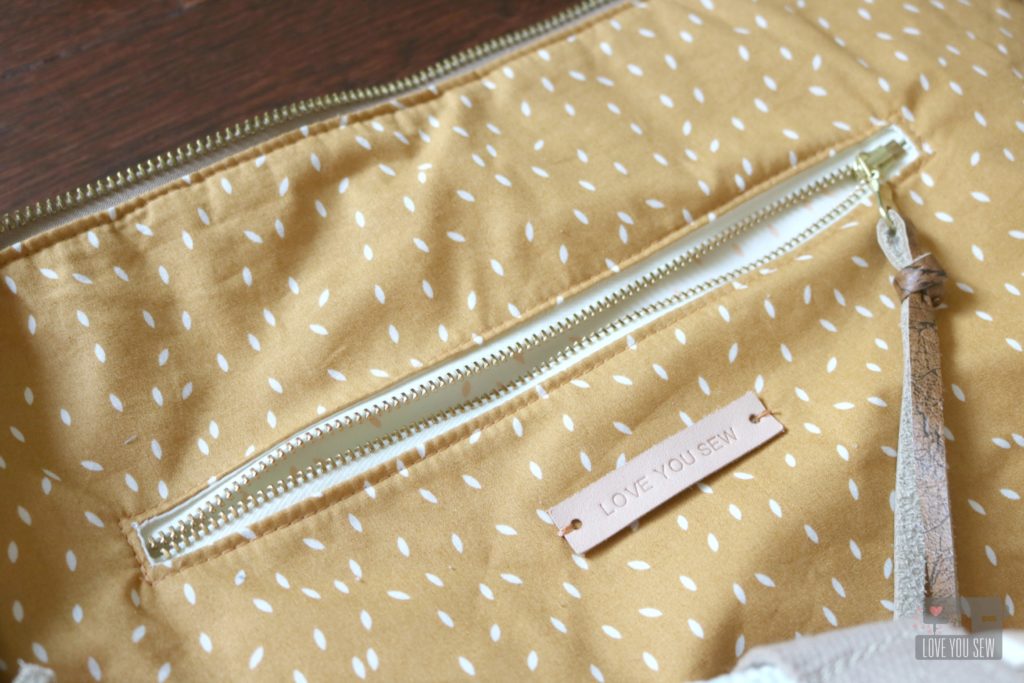 Art Gallery's textured denim in Canyon Sunset was the perfect complement to Arizona After and is a nice durable fabric for the bottom accent of the duffle bag. On the inside, I used the Scattered Wood print and added an additional zip pocket…because we can always use some extra pockets. I love the look of brass zippers and with the gold thread, this combo obviously had to happen.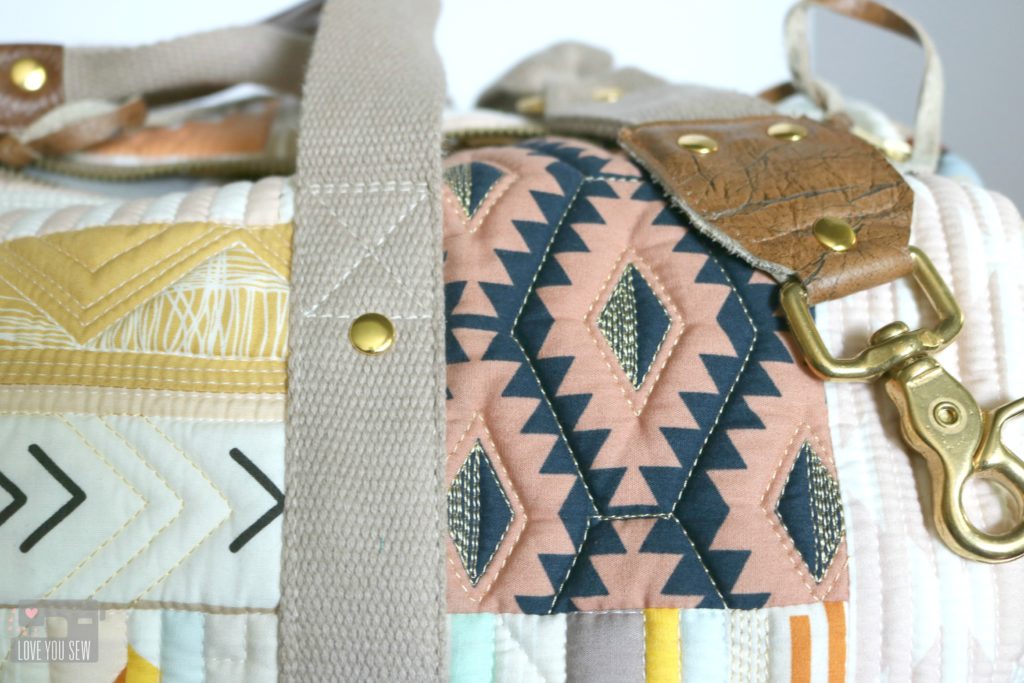 For more texture and to turn this bag up another notch, I used hardware from ARmercantile combined with some leather from my sacred stash. Guitar-inspired bag straps are popping up all-over the place and I just had to add that look to this duffle. The added rivets bring out more of the brass and help round out the look. Who says a quilted bag can't be modern and on-trend? I love being able to combine my love of quilting with my love of bag-making….and the gorgeous fabric definitely helps. Thank you Arizona After for the inspo!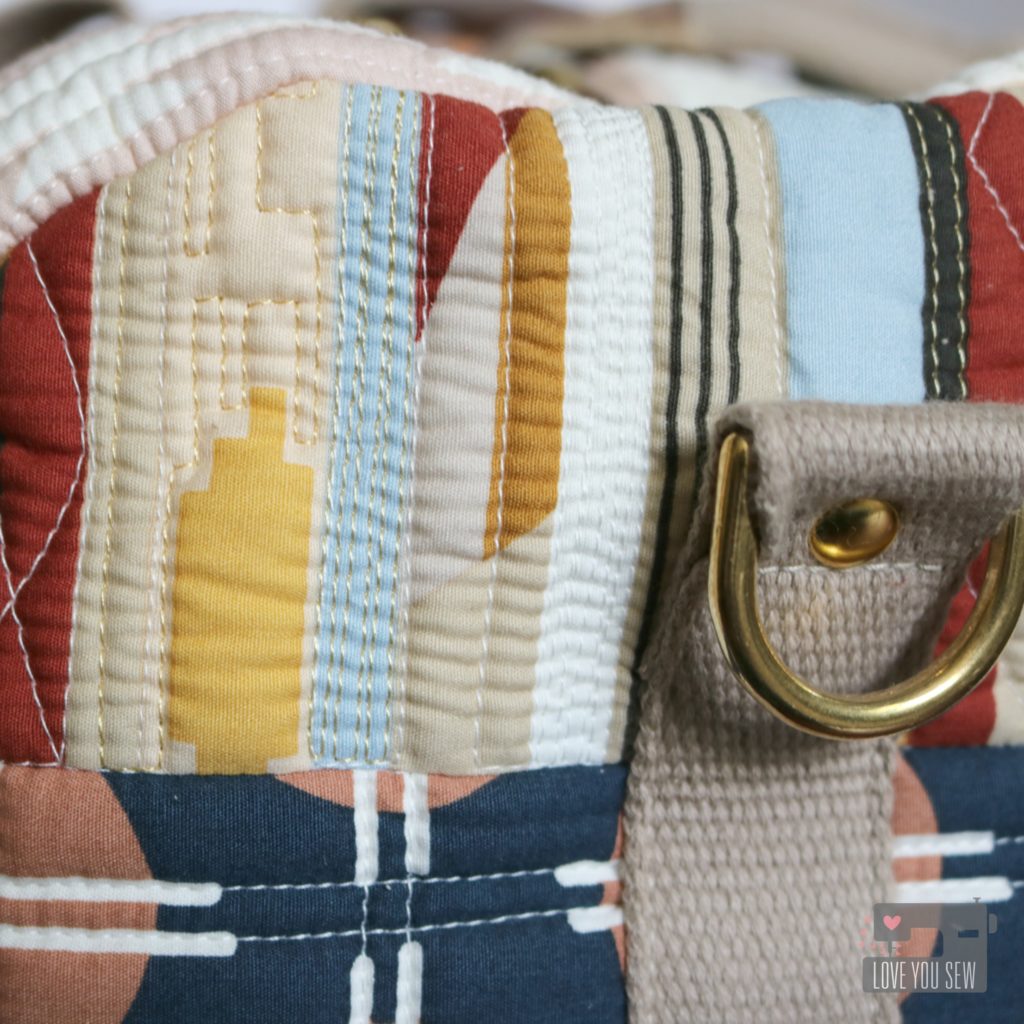 Make sure to check back on April's blog and Instagram all throughout July for the up-to-date info on the Blog Tour. Next up will be an Instagram loop on July 5th and I heard there maybe prizes involved ;)
Last, but not least, don't forget to tag #heritagefabrics and #arizonaafterfabrics with all of your makes. I can't wait to see all of them!
Project Summary:
Fabric and pattern for the Arizona After + Heritage Blog Tour was provided. There are affiliate links in the Project Summary.