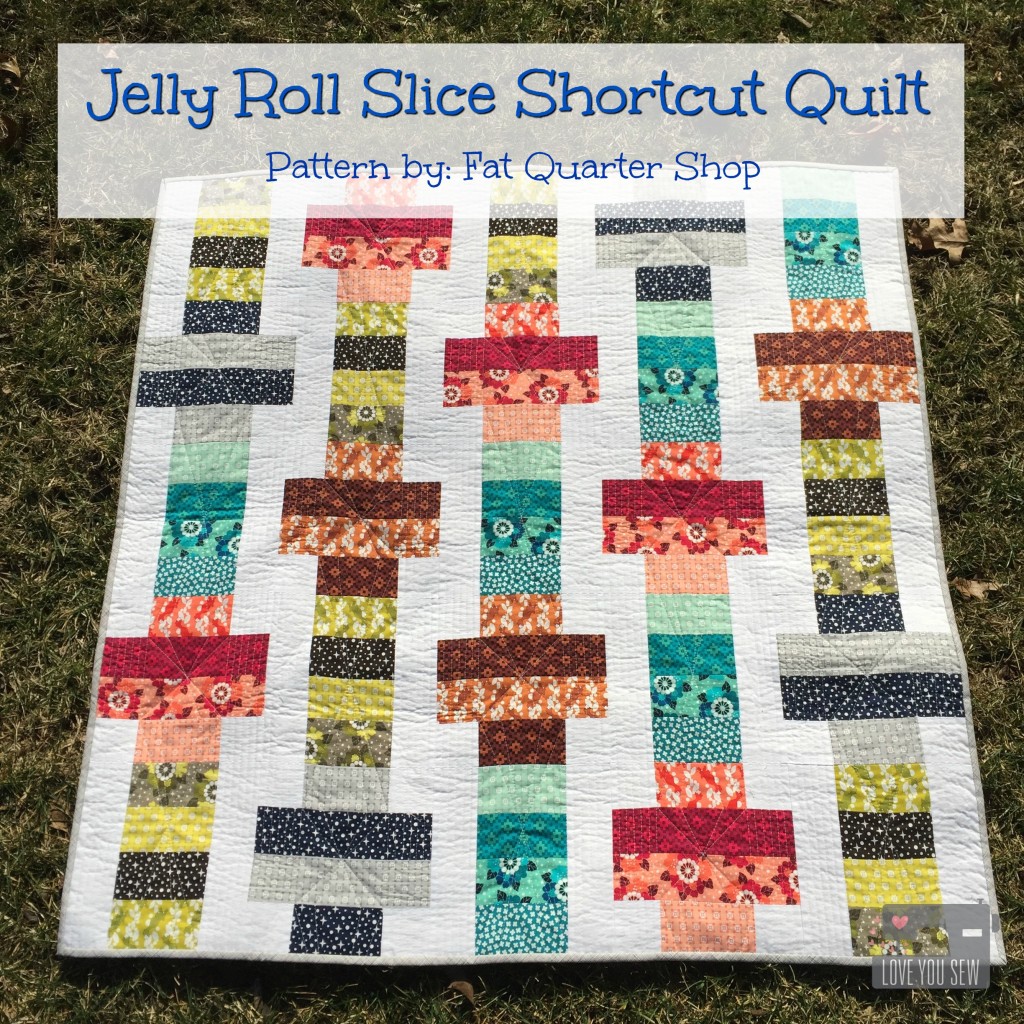 Whatever the reason, there are times we get into a sewing rut and need something quick and easy to pull ourselves out.  Fat Quarter Shop has just that project in their new FREE Jelly Roll Slice shortcut quilt pattern.  It's important to feel that sense of accomplishment and get that "sew-jo" revved up again!
For my jelly roll, I chose Elizabeth Hartman's Rhoda Ruth for Robert Kaufman Fabrics.  It has a fun and earthy palette with a mix of some animal prints.  This crib quilt is ear-marked for my future niece :) and I think these colors are going to be perfect with her nursery.
Thanks to the 2.5″ strips, the Jelly Roll Slice blocks came together very quickly.  The hardest part was just selecting the order of my fabric!

You can check out Kimberly's video tutorial (above) to see how she "slices" and to find that shortcut.
For the quilting, I used a mix of straight-lines and geometric shapes reflective of the different fabric designs.  It was a bit of a gamble, but am pleased with how it turned out.
For the backing, I chose the bold Nightfall Foxes.  These little guys are just so so cute and who doesn't love a shot of gorgeous teal?  The neutral binding (and one of my stash staples) is Carolyn Friedlander's Crosshatch.  (It just works with so many quilts!)
With no crazy angles and a nice shortcut method, this Jelly Roll Slice quilt was truly simple and could be pieced in just an afternoon. Who doesn't love that?  Do you have any quick projects to get your "sew-jo" back?
---
Below is the full list of participating Bloggers for the Jelly Roll Slice pattern launch.  Check them all out for additional ideas!
Taunja of Carried Away Quilting
Cheryl of Meadow Mist Designs
Terri Ann of Childlike Fascination
Eileen of Eileen in Stitches
Hayley of Moobird Stitches
Shelley of The Carpenter's Daughter Who Quilts
Kathryn of Kathryn Jones Quilts
Don't forget about these Quicklinks for the Jelly Roll Slice Quilt:
Video: https://www.youtube.com/watch?v=KOIuFJrIkQU
FREE Pattern: http://static.fatquartershop.com/media/wysiwyg/pdf/JellyRollSlice-CompletePattern.pdf
Quilt Kit: http://www.fatquartershop.com/jelly-roll-slice-quilt-kit
Fabric (found in the video, pattern & kit) : http://www.fatquartershop.com/moda-fabric/vintage-picnic-bonnie-and-camille-moda-fabrics/
Enjoy + Happy Stitching!
Cristy
***This post contains affiliate links and was sponsored by the Fat Quarter Shop.  Pattern and fabric was provided for use in this post.  All opinions are original and my own.