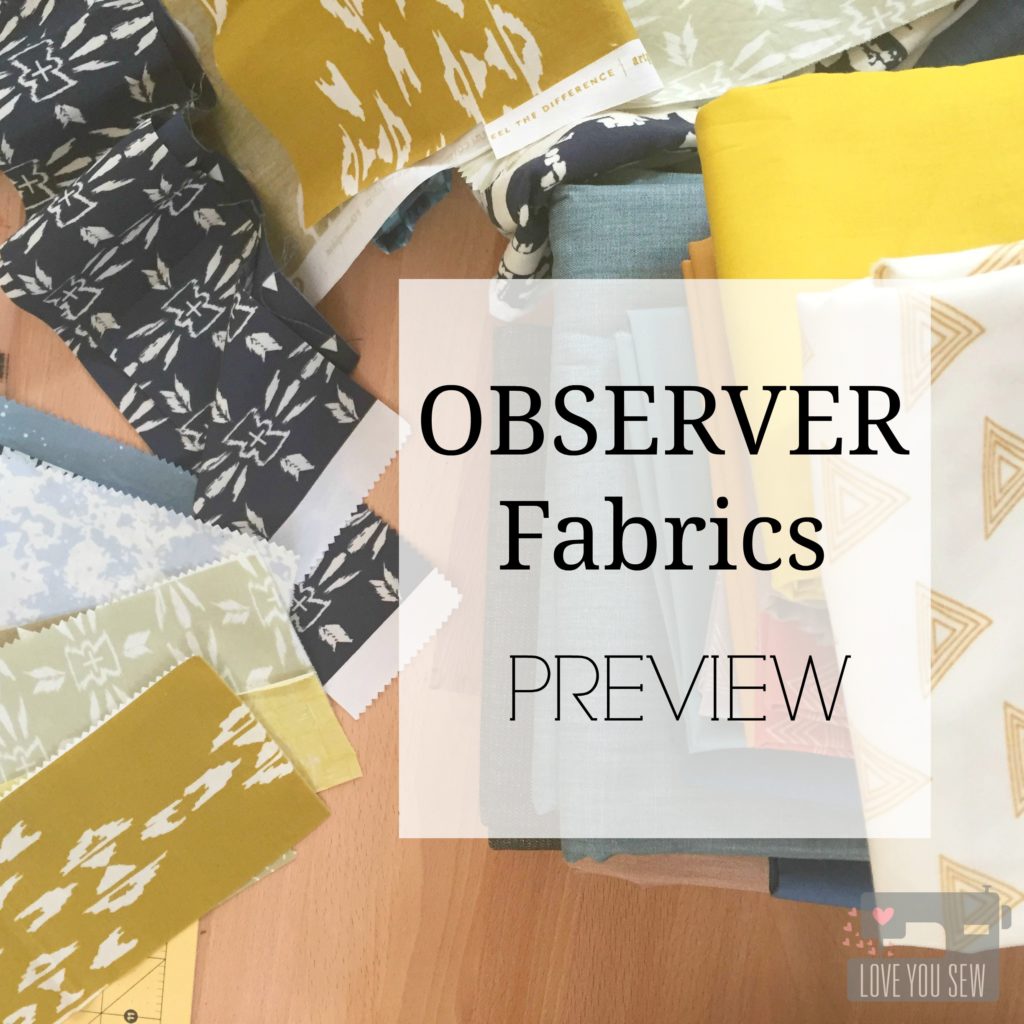 Have you ever seen something out in the wild, and wondered how pretty it would be to freeze that shot and frame it forever?  It's that moment that is just SO good, you take in that extra long gaze and lose yourself a little…  Well when you're April Rhodes, you take that extra step into permanence and create Observer fabrics.  It's a collection of patterns seen out in the world…through the eyes of Miss April, herself.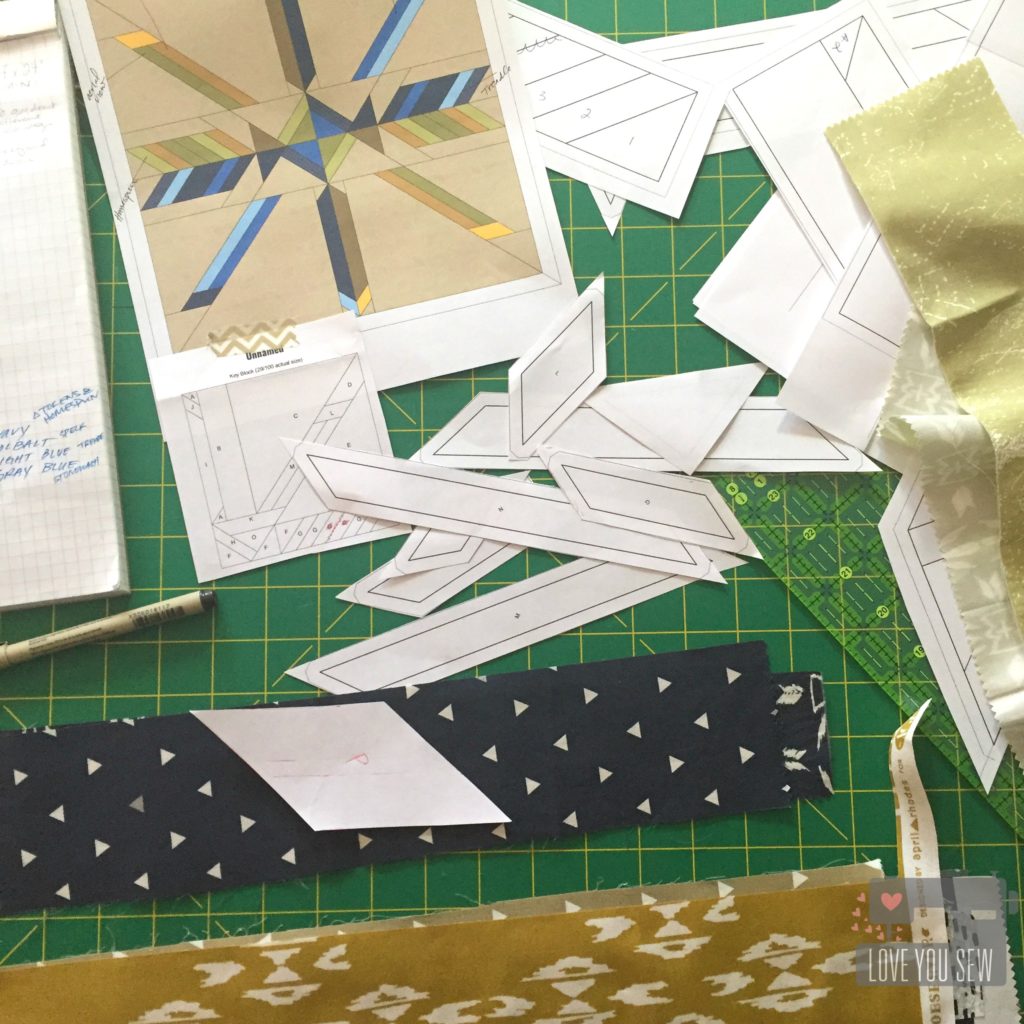 It is such an honor to sew with an unreleased collection.  The initial reveal is always exciting, but I love to hear about the inspiration.  That's why it's so wonderful to work with April…as we collaborate together, I get to hear the story behind every pattern and every color.  With all of that information, it then allows me to dig a bit deeper in my design wheel well.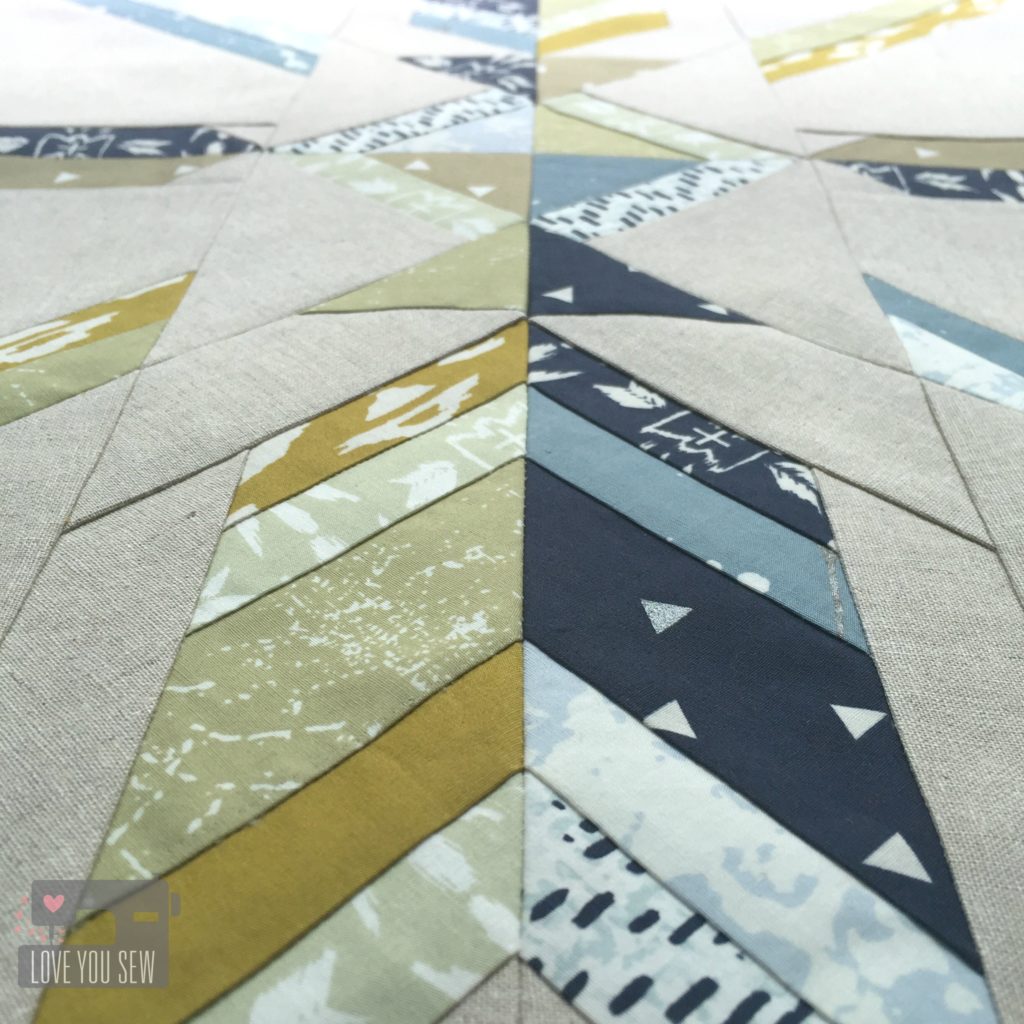 I was immediately inspired by the Homespun print.  It is based off of April's love of weaving and fiber arts.  The 24″ x 24″ (finished) quilt is paper-pieced  to make every angle and line as sharp as can be. It utilizes mainly 1.5″ strips, making it very scrap friendly.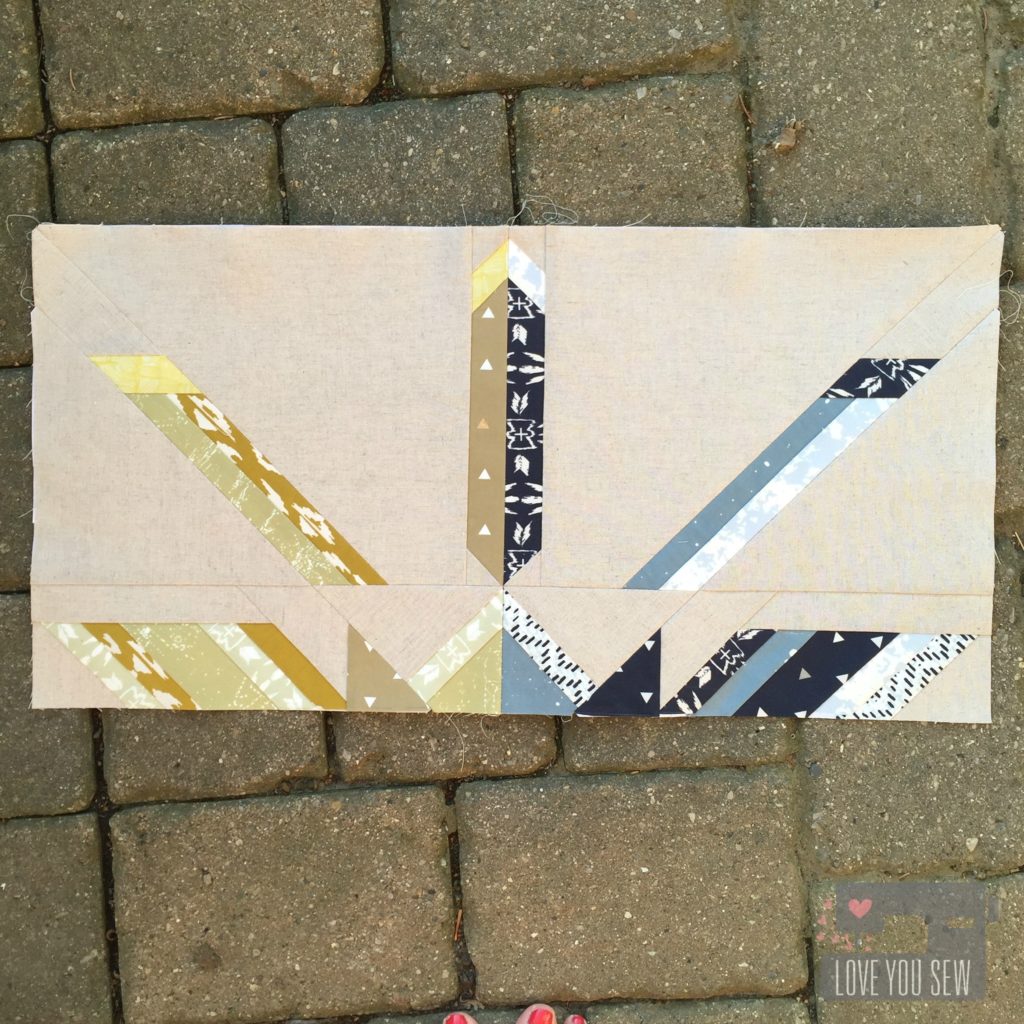 With Observer, the prints are either monochromatic or duotone and this quilt was designed to really show off the contrast by using the colorways, exclusively, in each quadrant.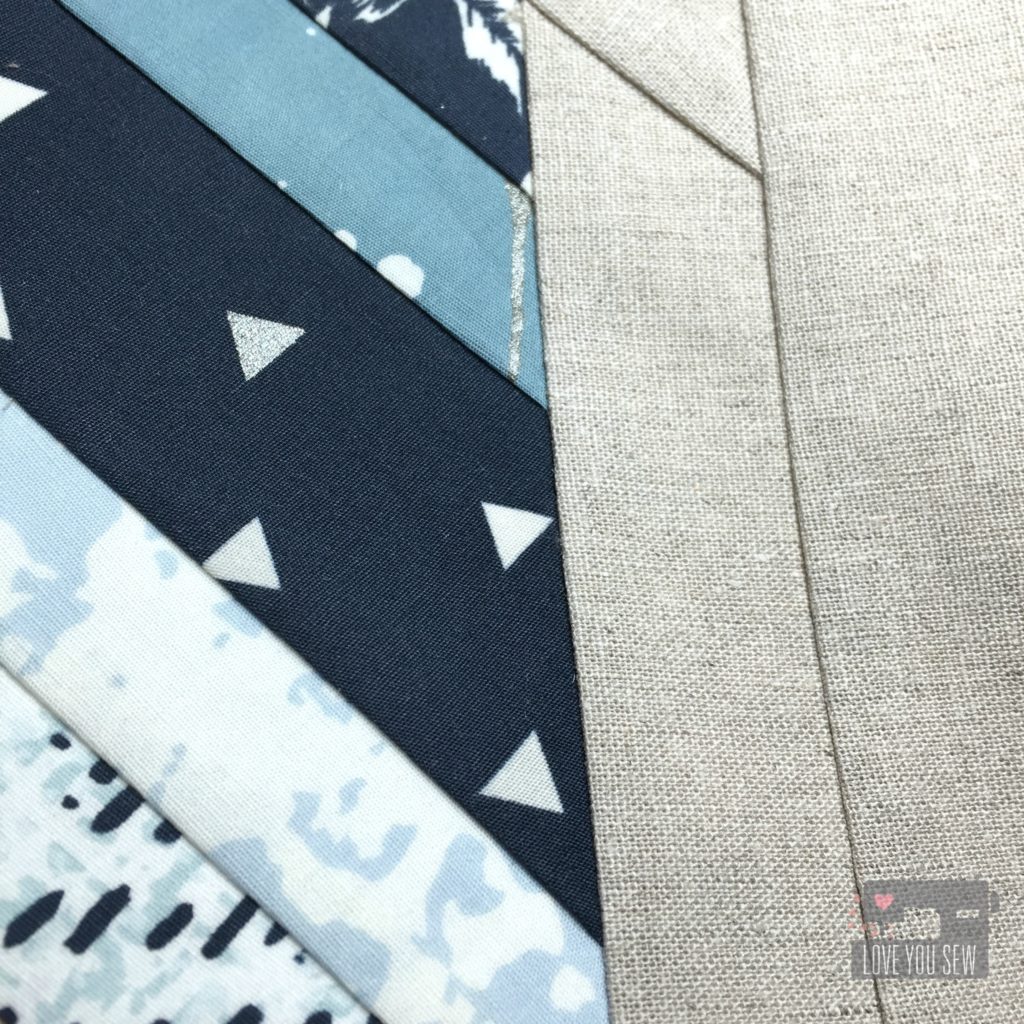 As you get closer to the fabrics, you can see the little hints of metallic (yaaas!)  With this collection, April incorporated silver which looks amazing against the deep blues.  It's always hard to photograph metallic, but you can see it in Triangle Tokens and on the Speck Stardust.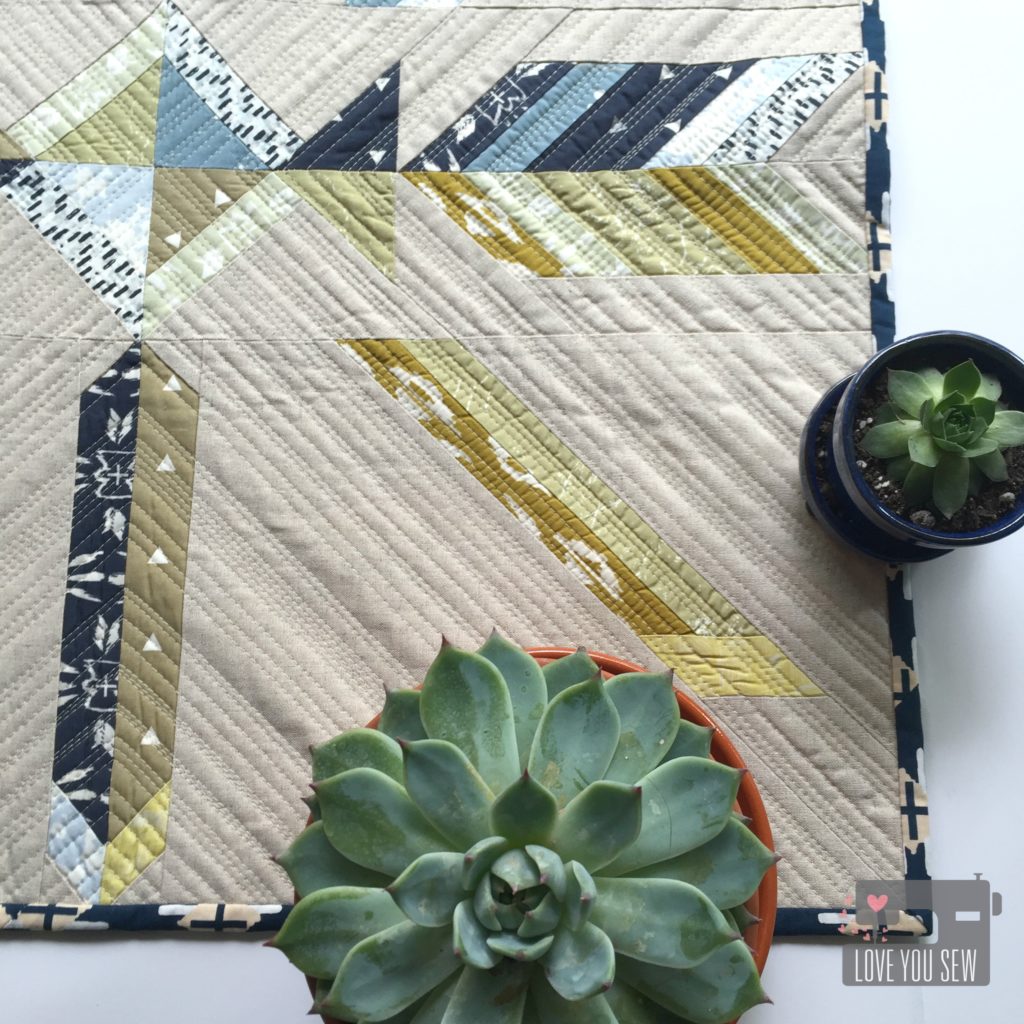 The background is Art Gallery Fabric's Premium Linen Blend in Soft Sand.  It is such a great texture and color to make the design and colors pop.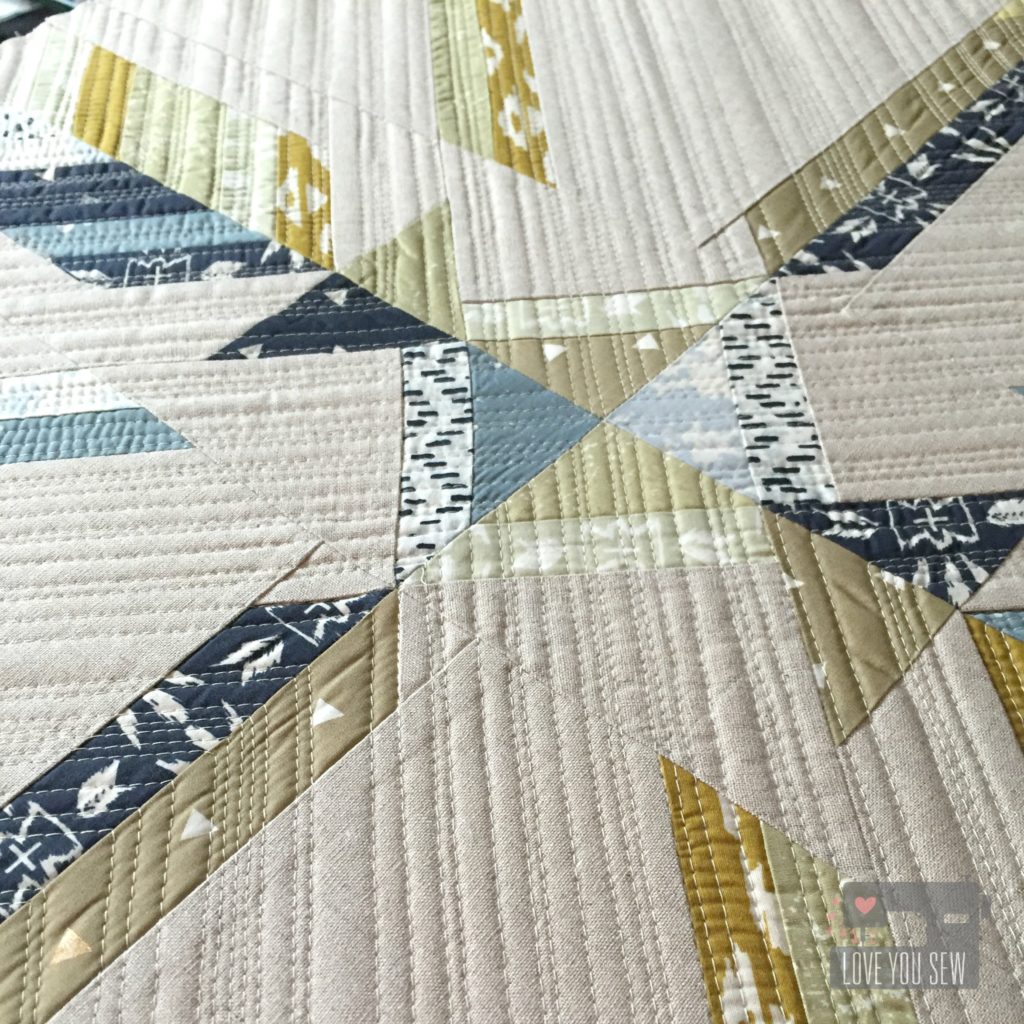 With so much negative space in the piecing, a random application of matchstick quilting was in order using Aurifil 2310. The areas were split into quadrants, like the quilt design, itself.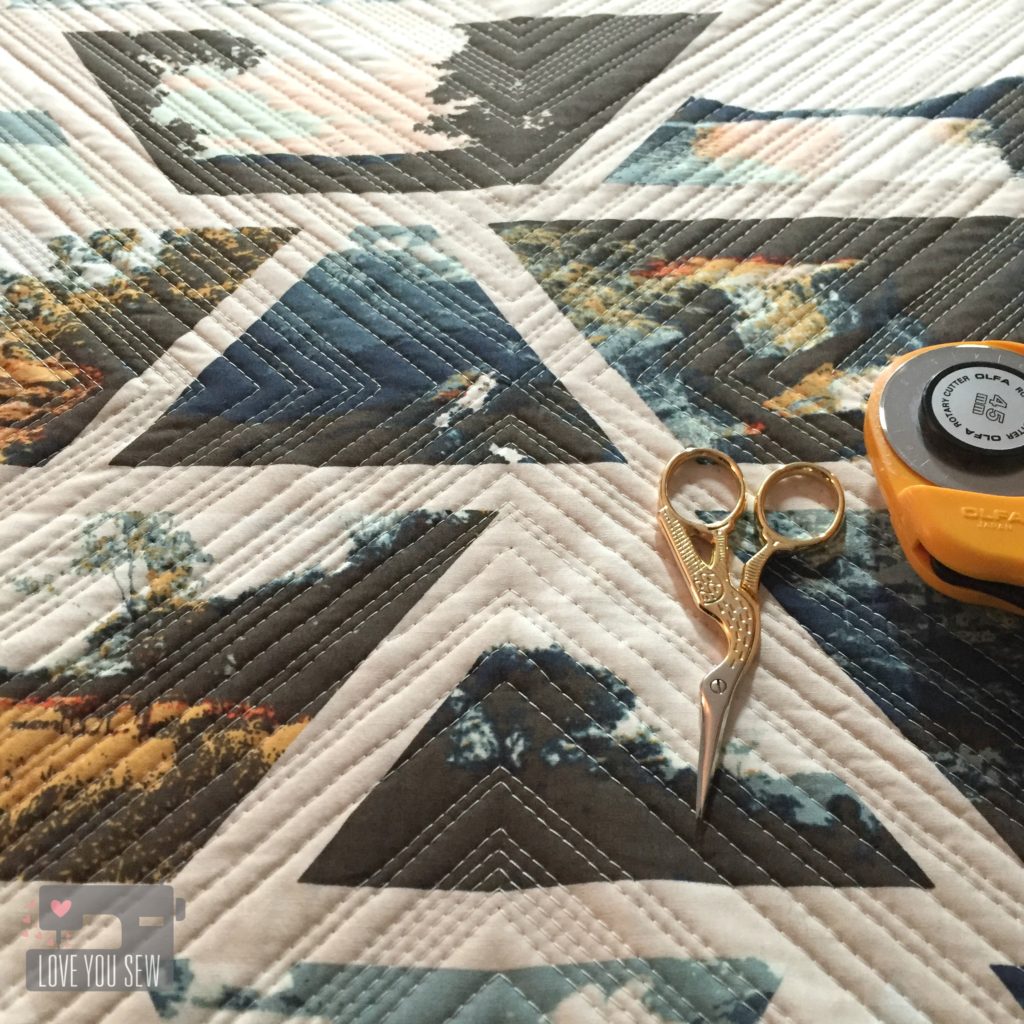 The backing was pulled from April's Wanderer collection.  Wandering Lands Mineral was the perfect print which really complimented all the tones in Observer and it shows off the quilting beautifully.
Stay tuned…this quilt pattern will be available closer to Observer's release in August!!!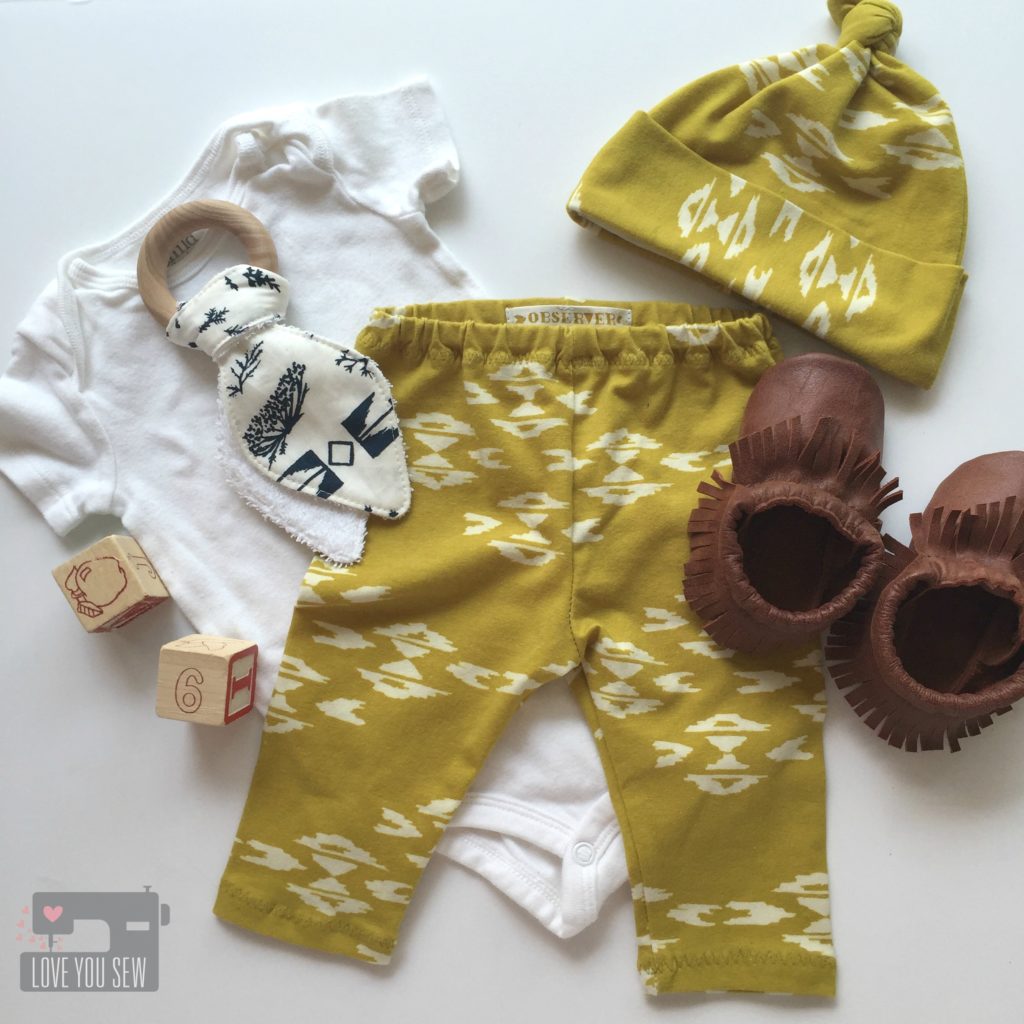 April asked if I would help make some baby leggings as well and how could I not?!?  Ya'll know babies are my business and LOVE the opportunity to make itty bitty gear.  These leggings are made with Overshot Gold in knit and they are so amazingly soft.  The pattern for the pants are from My Childhood Treasures.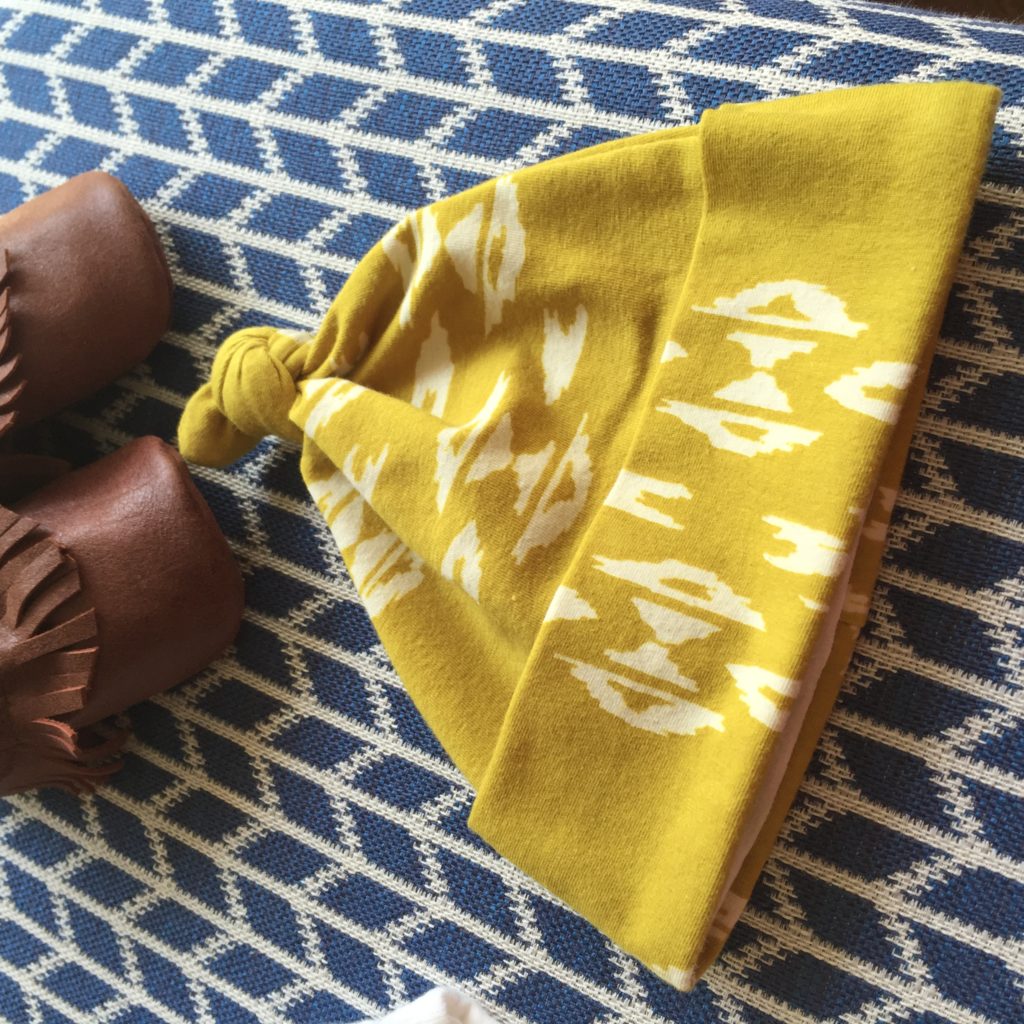 I drafted a pattern for the hat from an old one I have.  Make it Love it has a great tutorial and pattern which is similar.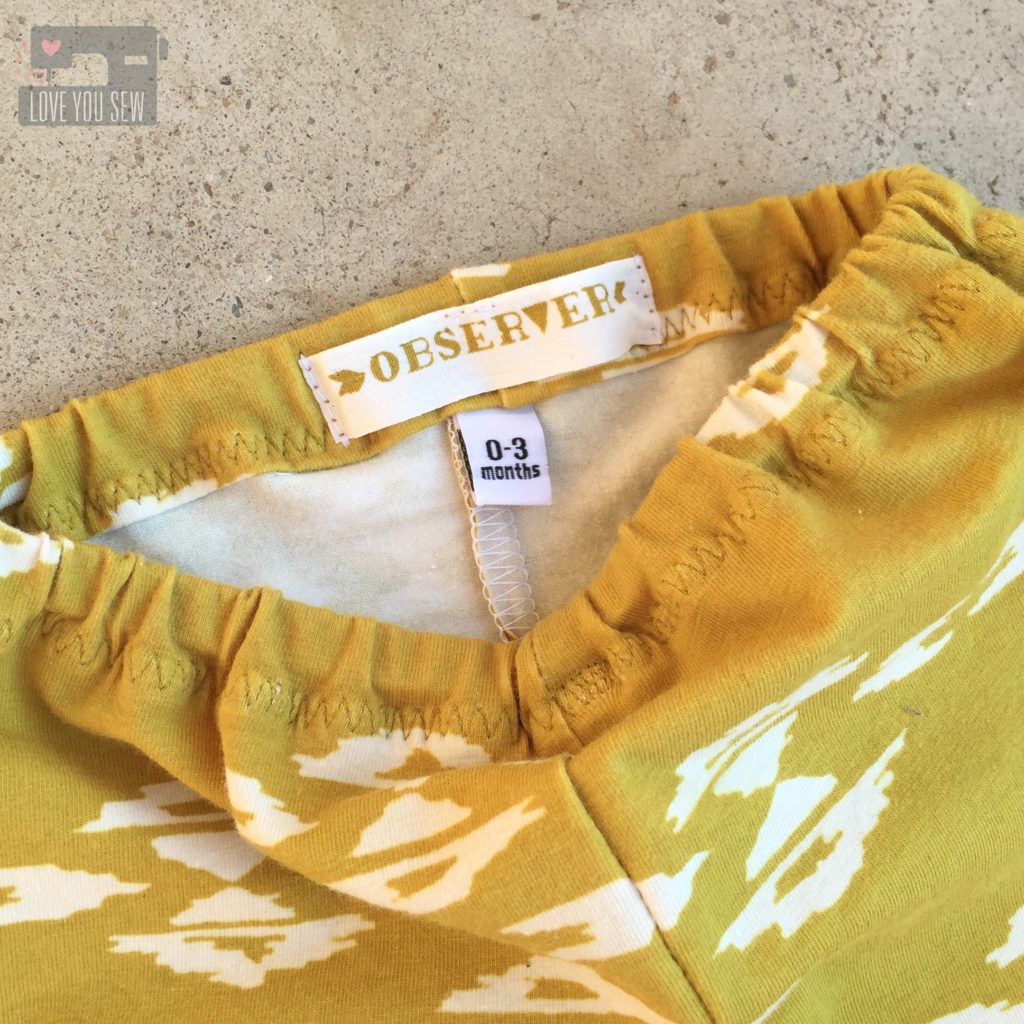 As an added detail, I used the selvage from a woven print on the back of the leggings.  It's a great way to make a little tag so you know the direction of your hand-made garments.
Aren't these clothes just perfect for the little bohemian in your life?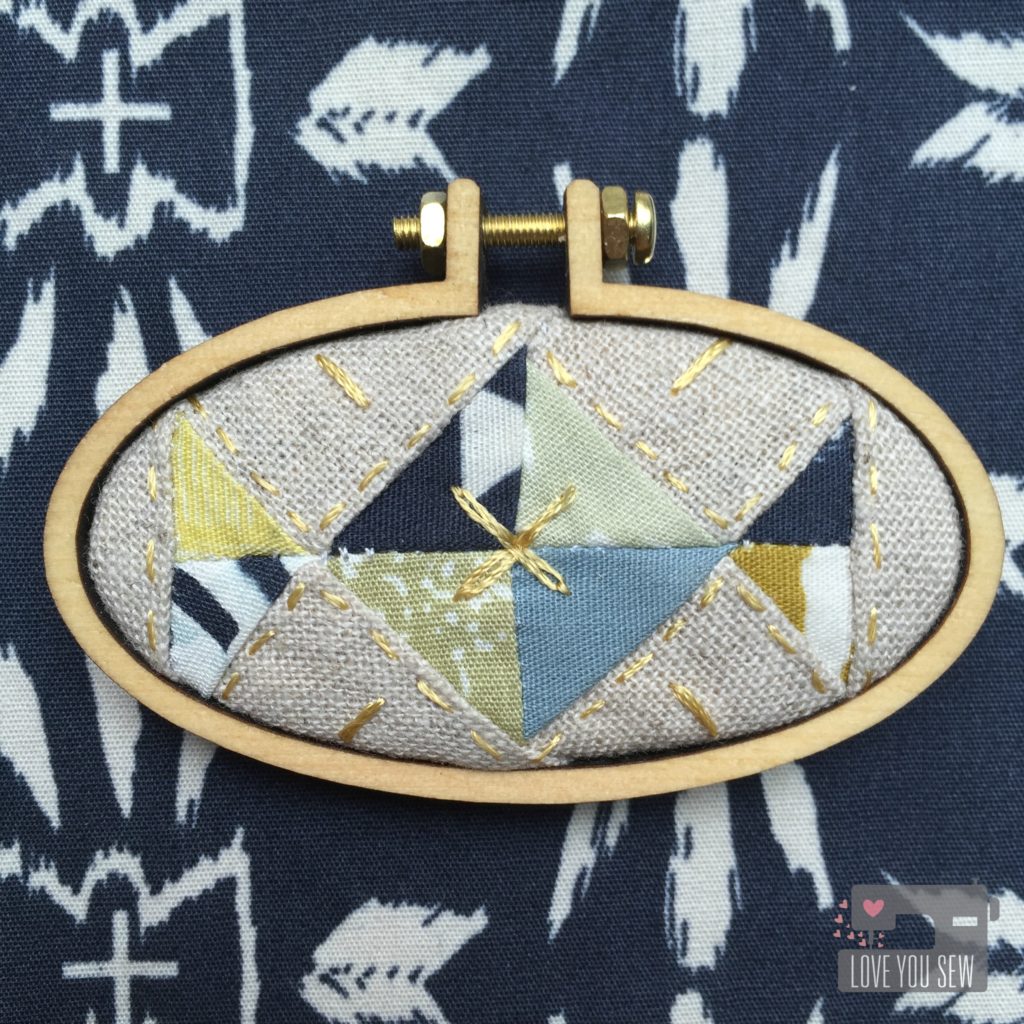 Last, but surely not least, is my mini quilt hoop (measuring about 2.5″ lengthwise.)  Making these quilt hoops has become one of my favorite projects and I cannot help myself when I have such amazing fabric laying around.  I love tiny (who doesn't?) and love being able to use up every little scrap.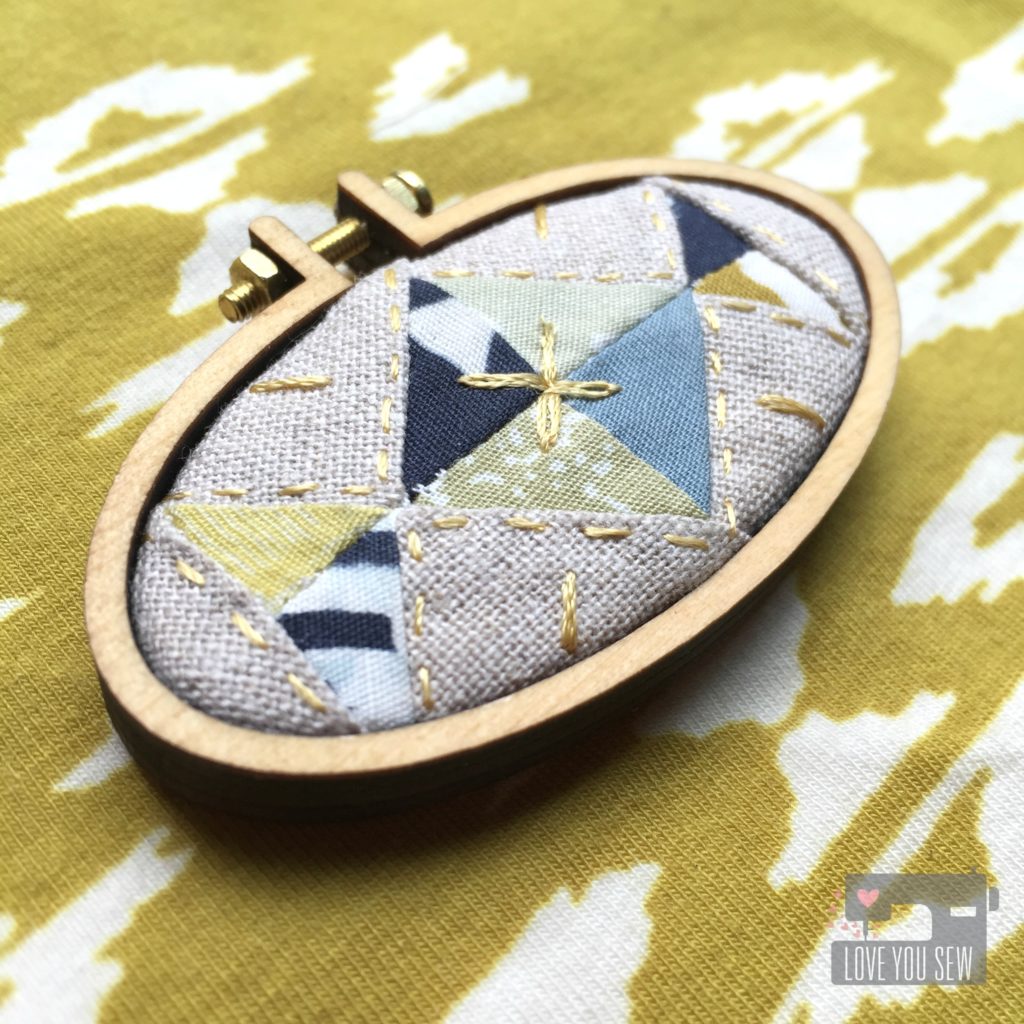 Of course, I used Dandelyne hoops and chose an oval to make a piece based of the main quilt I designed at the top of the post.  A little gold embroidery thread made this hoop extra special and I love how it turned out.
---
I hope you enjoyed my little preview of Observer which is due out in August.  Make sure to check out the full collection here.
Do you have any plans for these fabrics?  Please let me know!  I have a few already planned….maybe an envelope clutch, dresses for my nieces, shirts for my boys, and dresses for myself….I could go on and on!
Happy Stitching, Friends!
Cristy