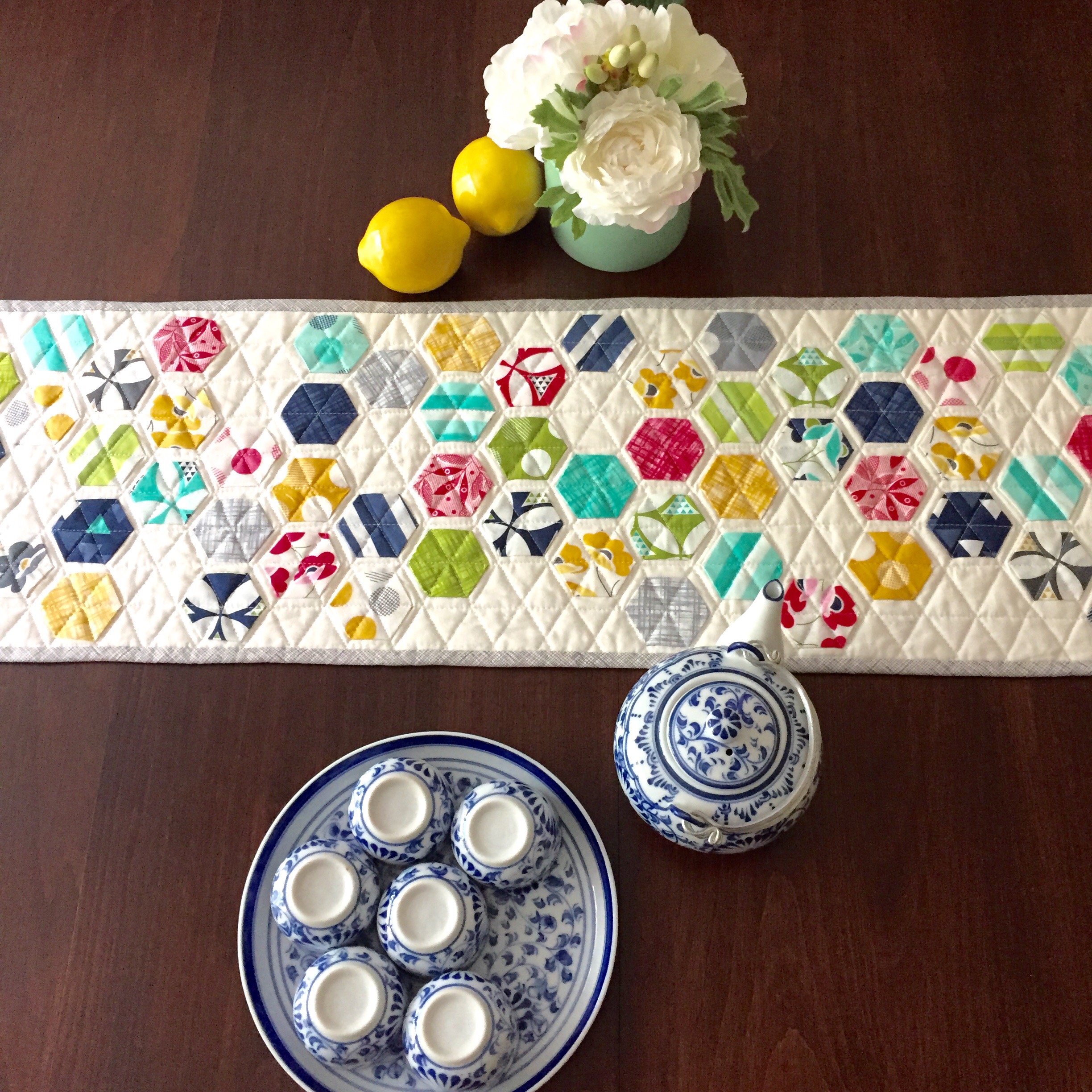 I know a 10-foot Quilt isn't all that special for a king-size bed, but for a modern hexie table runner, it seems pretty long to me!
When my husband and I first moved into our house, we knew we needed a proper dining set.  We searched all over Columbus and online for the perfect table, but my husband (coming from a large family with 10 brothers and sisters!) wanted something big.  Our searches would turn up with a table that was long enough, but too narrow…or vice versa…wide enough but not long enough.  After exhausting almost every option, we decided to go to the Amish.  A family friend suggested we go to Miller's, where you can have 100% solid wood furniture custom built and stained.  I was skeptical…thinking the designs were outdated…kinda like the horse and buggy, but we were pleasantly surprised!  They had tons of modern pieces in the showroom.  We could get this work for less than the high-end furniture stores AND you know buying local is THE best! Sold!!!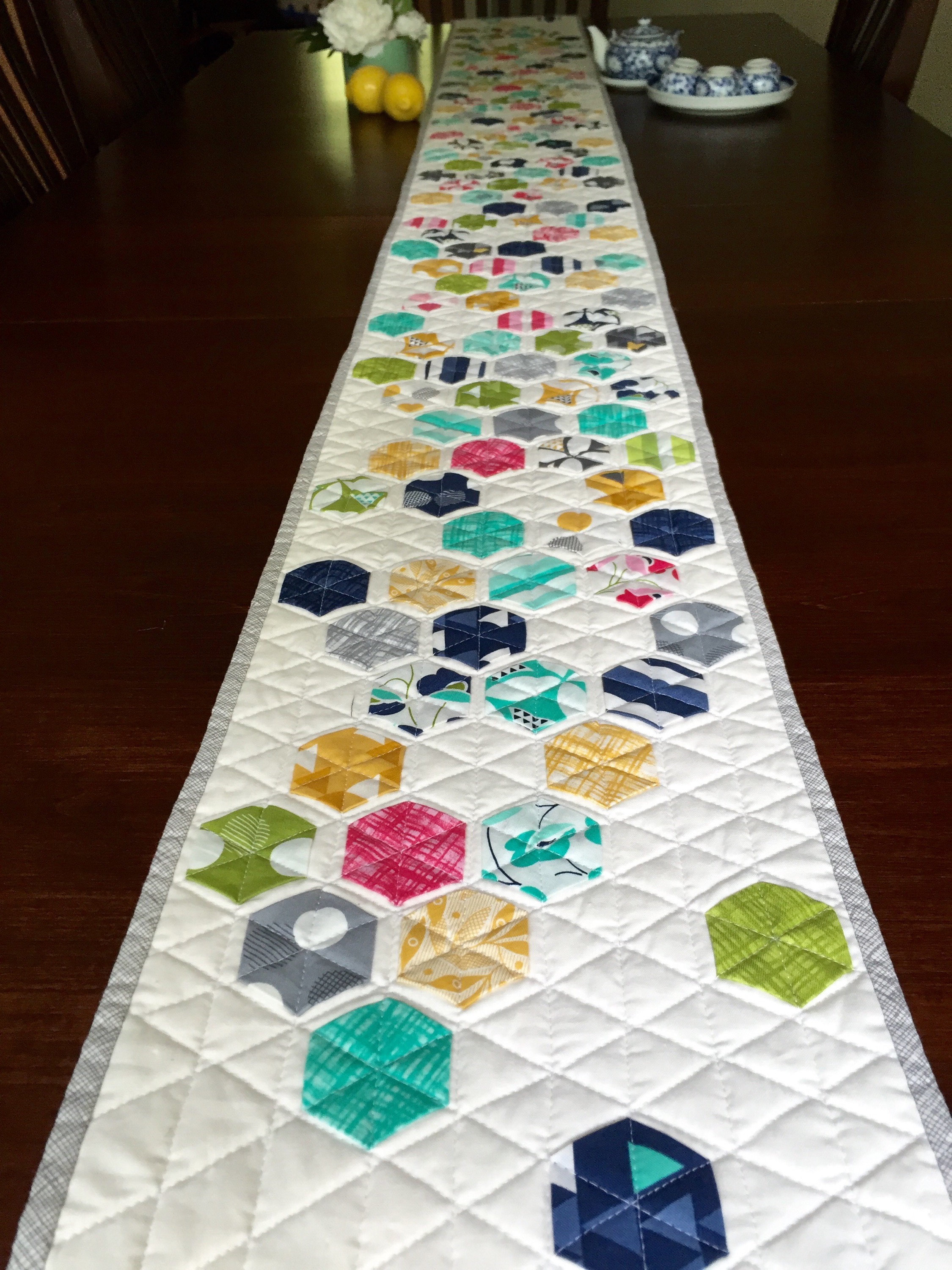 Our table is 96″ long, but can be extended out to 108″ if we're entertaining a crowd.  Since we were going custom, we figured we might as well throw in that option if we are ever fortunate enough to have the room…or just turn it around to straddle our dining and living rooms!!!  It is also a generous 36″ wide for ample tabletop space.
So…. we have our perfect table, but getting coverings for it has been even more limited.  We are running into the same issues and I end up using tablecloths that barely hang down either sides.  Luckily, our chairs help hide the "short-comings." I knew I needed to make something myself to be both stylish and fit the dimensions of our XXL table.
First thing's first. What dimensions did I want? Did I want the runner to hang off or be a little shorter that the table length?  I decided on 120″ so 12″ can hang off both ends.  I love seeing the bare wood of our table, so I figured 10″ wide was enough to leave some eating space and show off our furniture.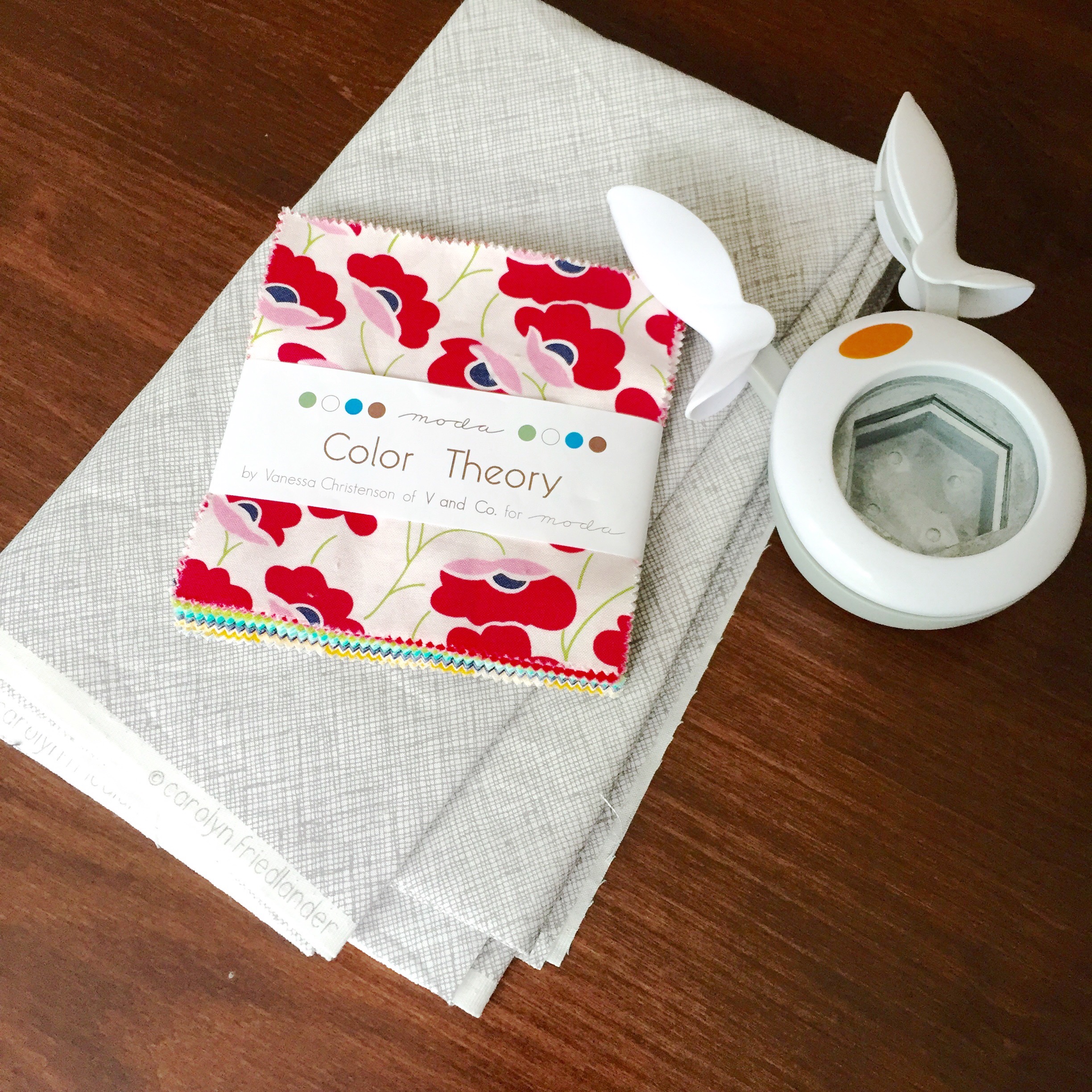 The hexie fabric for this runner is Color Theory by Vanessa Christenson.  The collection is full of gorgeous cheery colors in a spring palette.  I love all of her fabric…swoon…  It is just the perfect fabric to offset the table's dark finish and bring some color to my house!
Can you believe that I only used only ONE charm pack to yield all of the hexagons on the runner?  I sure can't! I had two charm packs ready to go for this project, but only needed the one…so I'm thinking maybe placemats maybe in my future?!? Hopefully, I can get those done before the summer is over….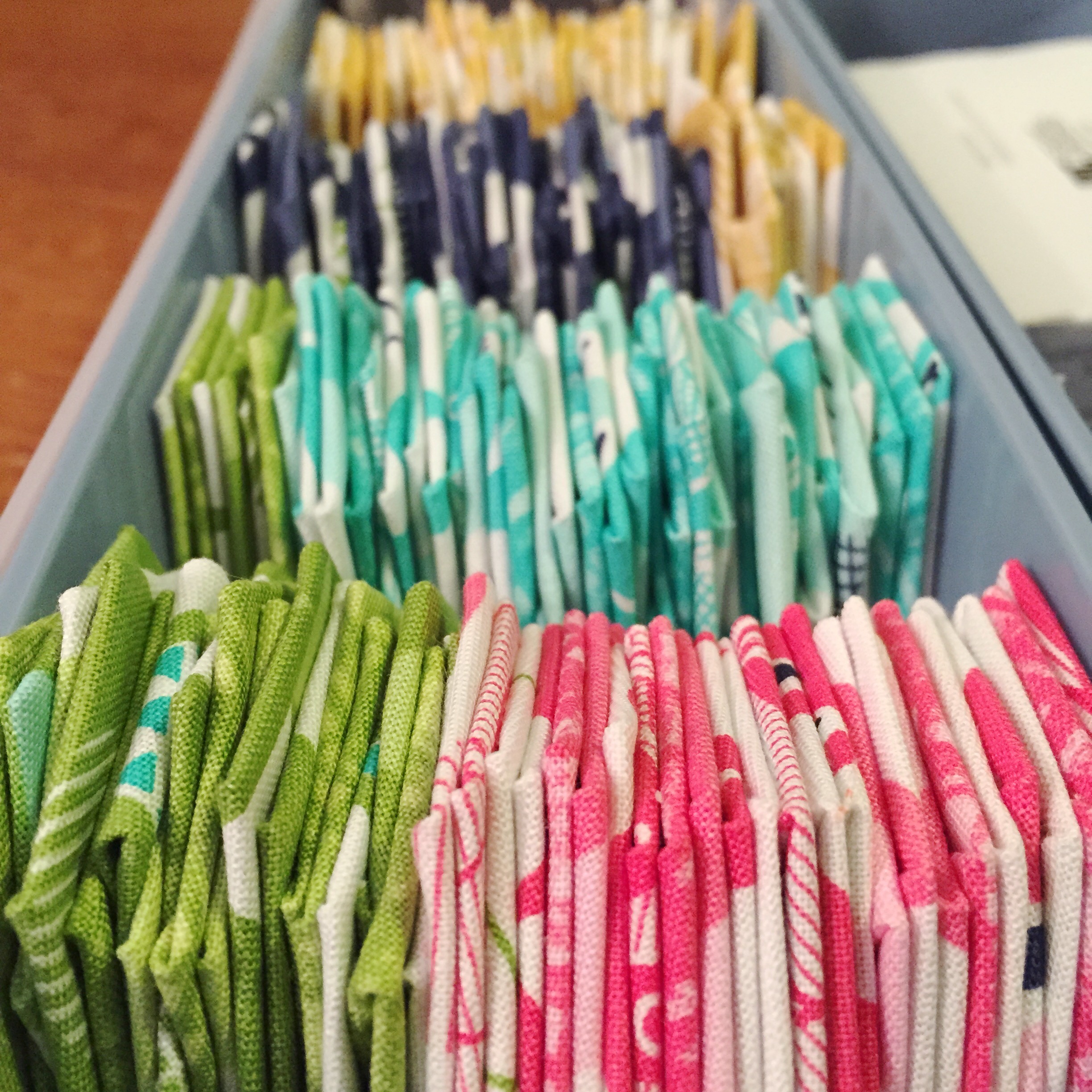 The hexagons were placed against Kona cotton in Snow.  This was a continuous 3 1/3 yard cut. I didn't want any seams on the front and you know I can ALWAYS find more uses for leftover Kona white!
For the backing, I used Riley Blake Design's Swiss Dots in Navy on White. However, I did piece three cuts together since no one would see much of the back. I used my go-to binding fabric…Architextures Grid in Shadow. It just goes well with so many different fabrics and the design isn't too distracting but is interesting enough.  I used about 7.5 yards of binding around this puppy.  I always machine sew the binding to the front and hand-stitch it to the back so you do not see any thread.  It's a longer process, but I like the clean look…well worth the time in my opinion ;)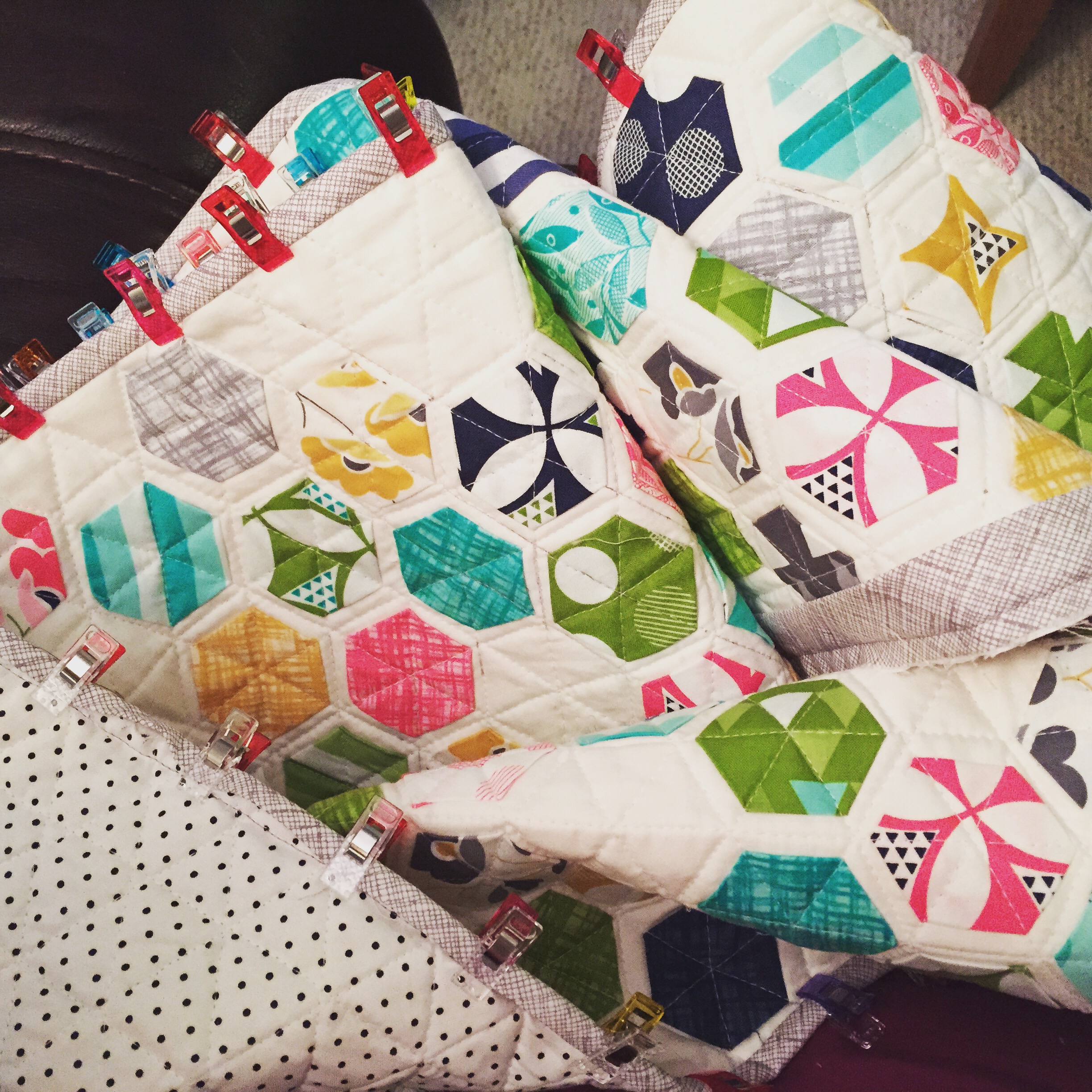 The inspiration for the table runner is all the Modern Hexie art by Modern Handcraft. You can go to her blog for a full tutorial of the process. You can buy precut hexagon templates, cut your own by hand or using a die cutter, but I use Fiskars extra-large hexagon punch. My hexagons are made of junk mail flyers that I punch out…so if I have to throw any away, I don't ever feel bad about it.
Tips:
For such a large project, mark a grid (1″) to place the hexagons…you will be be happy you did once you have to quilt.  After some experience and especially on smaller projects like pillow and placemats, you'll be able to eyeball it ;)
On white and light backgrounds, I like to use a water-soluble pen vs. Frixion since the latter leaves a "ghost" mark behind after ironing. Just make sure you DO NOT iron on top of the water-soluble pen, else it will set.
Since this is a narrow runner, it's important to quilt in the same direction if you decide on straight lines.  You risk pulling, which can turn your straight sides into a wonky mess.
Please share any of your hexie table runner projects with me!  You know I love to see them :)
Happy Stitching!
Cristy